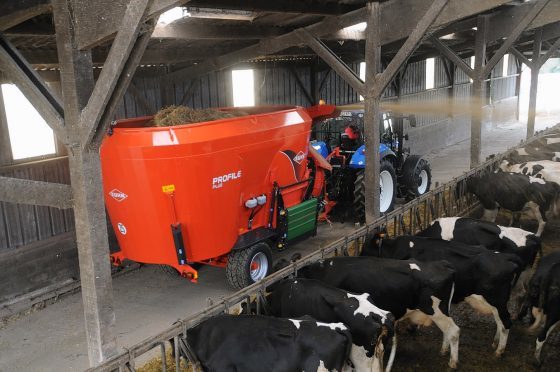 A new range of dual-purpose mixer wagons with integrated bedding systems was showcased by Kuhn Farm Machinery at last week's AgriScot event in Edinburgh.
Kuhn's Profile Plus range of twin-auger total mixed ration (TMR) mixer wagons, comes in four different models, all containing an integrated bedding system.
All models come with a narrow body design to enable them to be used in both old and new farm buildings, as well as a number of the same features seen on the firm's standard Profile 70 series of vertical auger mixer wagons.
These include a low loading height, compact external dimensions, right or left feed discharge door and a three-point electronic weighing system as standard.
The Profile Plus range also features a front mounted straw-blowing turbine driven by Kuhn's patented Polydrive system. This enables it to throw 600kg of bedding material to a distance of 18 metres in 4.5 minutes.
The new range is available in four different capacities – 15, 16, 18 and 20m3.
All models use two independent vertical augers to mix a range of feedstuffs, with adjustable counter-knives giving the ability to cut fibrous material to a pre-determined length.
Kuhn said: "The small diameter augers reduce the range's power requirement, with the 15m3 Profile Plus 1570 compatible with 80 horsepower tractors."
Optional extras available include a tilting feed conveyor and swivelling straw-blowing chutes.
Kuhn's UK sales manager, Duncan McLeish, said: "The Profile Plus range shares many of the features found on our established range of Euromix wagons. Key features such as the adjustable counter-knives, electronic weighing system and customisable feed-out options enable cows to be fed consistently and accurately, while the integrated straw-blower adds to the range's overall versatility and value for money, making the Profile Plus perfect for the majority of modern dairy and beef farming enterprises."
He said prices started at £41,034 for the 15m3 Profile Plus 1570, rising to £43,687 for the 20m3 Profile Plus 2070.