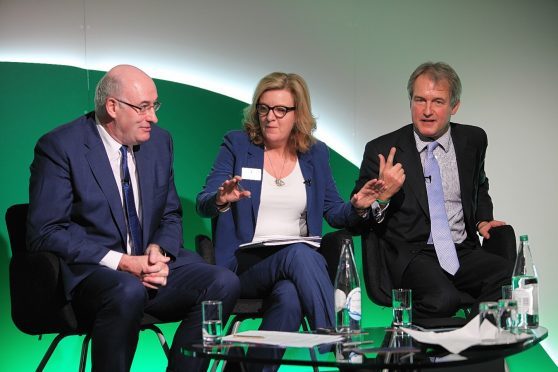 The debate over Britain's membership of the European Union intensified on the closing day of the Oxford Farming Conference.
European Agriculture Commissioner Phil Hogan and former Defra secretary Owen Paterson took centre stage at yesterday's conference to argue the cases for and against membership of the union.
Unlike the current Defra secretary, Liz Truss, who this week confirmed government was not working on a plan B for farm support, Mr Paterson set out his vision for a British Agricultural Policy.
He said a UK policy would pay the same, if not more, than the current Common Agricultural Policy (Cap) and be based on four key strands.
Theses are: to grow the rural economy, improve the environment, protect the country from animal diseases and protect the country from plant diseases.
"Funds will be allocated in a much more effective and targeted manner by policymakers with a full understanding of the UK industry and environment," said Mr Paterson.
"A UK policy should encourage import substitution, the export of quality products, and the government should direct public procurement, worth £2.4billion, towards UK producers."
He said regulations could be "massively simplified" and policy decisions on issues such as GM technology would be based on science.
The UK would have more access to global markets, claimed Mr Paterson, who branded those worried about leaving the EU as having "Stockholm syndrome".
Presenting the counter argument Phil Hogan outlined what he believed were the benefits of being part of the European Union.
He said: "The stability brought by the Cap has provided, and is providing, the foundation for economic growth and jobs in rural areas and all along the food chain.
"And here, we must not forget the historical mission of the Cap itself – to ensure the sufficient supply of safe and sustainably produced food at a quality which our consumers expect, despite the uncertainties which farmers face such as weather, animal disease, or market prices."
This was vital in a country like Britain, which imported nearly 40% of its food, added Mr Hogan.
He said EU membership was vital for global trade, remarking: "You can't achieve things on your own. You need help."
Lastly, Mr Hogan urged farmers to be sure about whether or not financial support would continue in the event of Britain leaving Europe.
"Outside the EU, agricultural spending would be subject to the same annual review by the British Treasury as any other department. Can farmers compete with doctors, nurses and schools in such a review?" asked Mr Hogan.
"The Defra budget has been cut by 34% since 2010 but the European budget has only been cut by 3%."