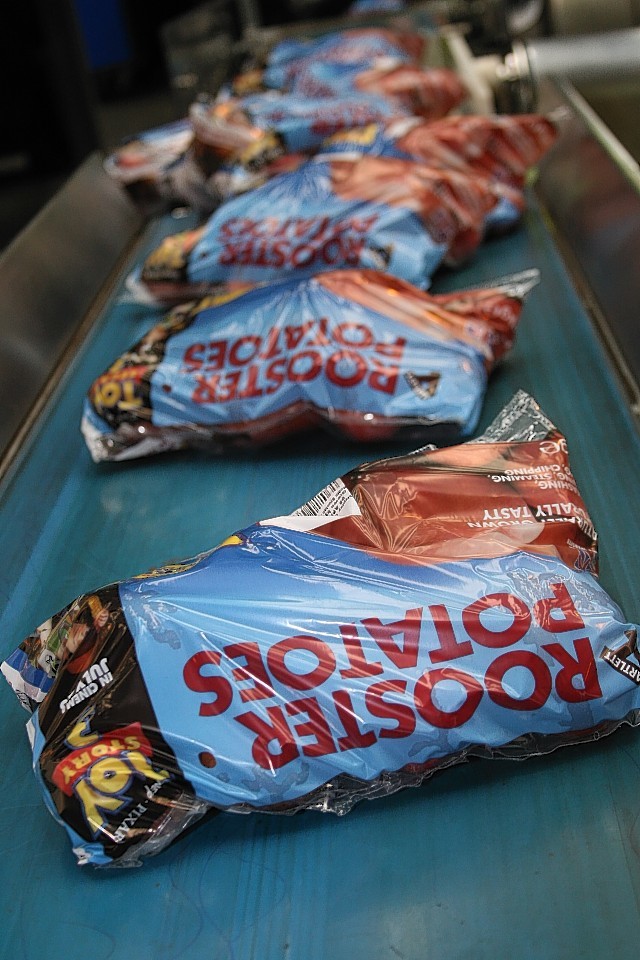 Marketing fresh potatoes has been challenging in recent years but it would have been much more so without the benefits of branding.
That was the message from John Hicks of Airdrie-based packer Albert Bartlett Ltd when he spoke to the SAC Association of Potato Producers in Perth.
"Potatoes have been in sharp decline in volume terms unlike salads and berries. There have been health negatives from time to time which we have had to counter and the lack of inclusion in the Five-a Day initiative has not helped. One thing has become clear is that selling for less does not increase volumes when it comes to fresh potatoes," said Mr Hicks.
"But we would have been in a far worse position if we didn't have 13 years of branding and product innovation behind us."
Back in 2003 Albert Bartlett only supplied two supermarkets – Safeway and Somerfield – neither of which now exist.
Now it supplies almost all of the multiple retailers and claims to have around 14% household penetration in the UK. That means more 4million households buying Albert Bartlett products with the average customer buying them five times a year with an average spend of £2.29.
The transformation hasn't come cheap however with just over £40million spent on brand investment over 12 years.
Television advertising centred around the red-skinned variety Rooster has been a major part of this using showbiz personalities and celebrity chefs Andrew Fairlie and Michel Roux to tell the story.
"Brands such as Heinz Beanz, Corn Flakes and Walkers Crisps are very strong but it is possible to create new ones. Innocent have done that with drinks and Albert Bartlett has done it with Rooster. We have been aiming for a younger market and we were starting from a position where consumers had low expectations when it came to potatoes," said Mr Hicks.
The company was now developing its Scotty brand with the emphasis on seasonal and local foods, he said.
There was consumer interest in knowing the provenance of their purchases and the "meet the farmer" section of the Bartlett's website was second only to the recipe pages in popularity.
Nick White, head of marketing at AHDB Potatoes, told the 100 strong audience that his task was not to create brands but to generically boost potato consumption. It wasn't easy but it could be done – beetroot consumption had soared on the back of the health message and all coconut products had seen an astonishing rise in popularity.
"We do have to compete though with rice and pasta and much of it is to do with preparation time. In 1980 the average time devoted to preparing an evening meal was 60 minutes and now it is down to 31 minutes," he said.
Potatoes also suffered from over-familiarity and "instant apathy" as soon as they were mentioned.
New products and innovative recipes would help attract the target audience of 25 to 44 year olds but education was the key.
AHDB now had "grow your own potato" projects in 71% of UK primary schools and more advanced projects in many secondary schools, catering colleges were now a target.
Mr White urged everyone in the industry to get behind the AHDB's One Voice potato promotion campaign so that key messages were consistently delivered.