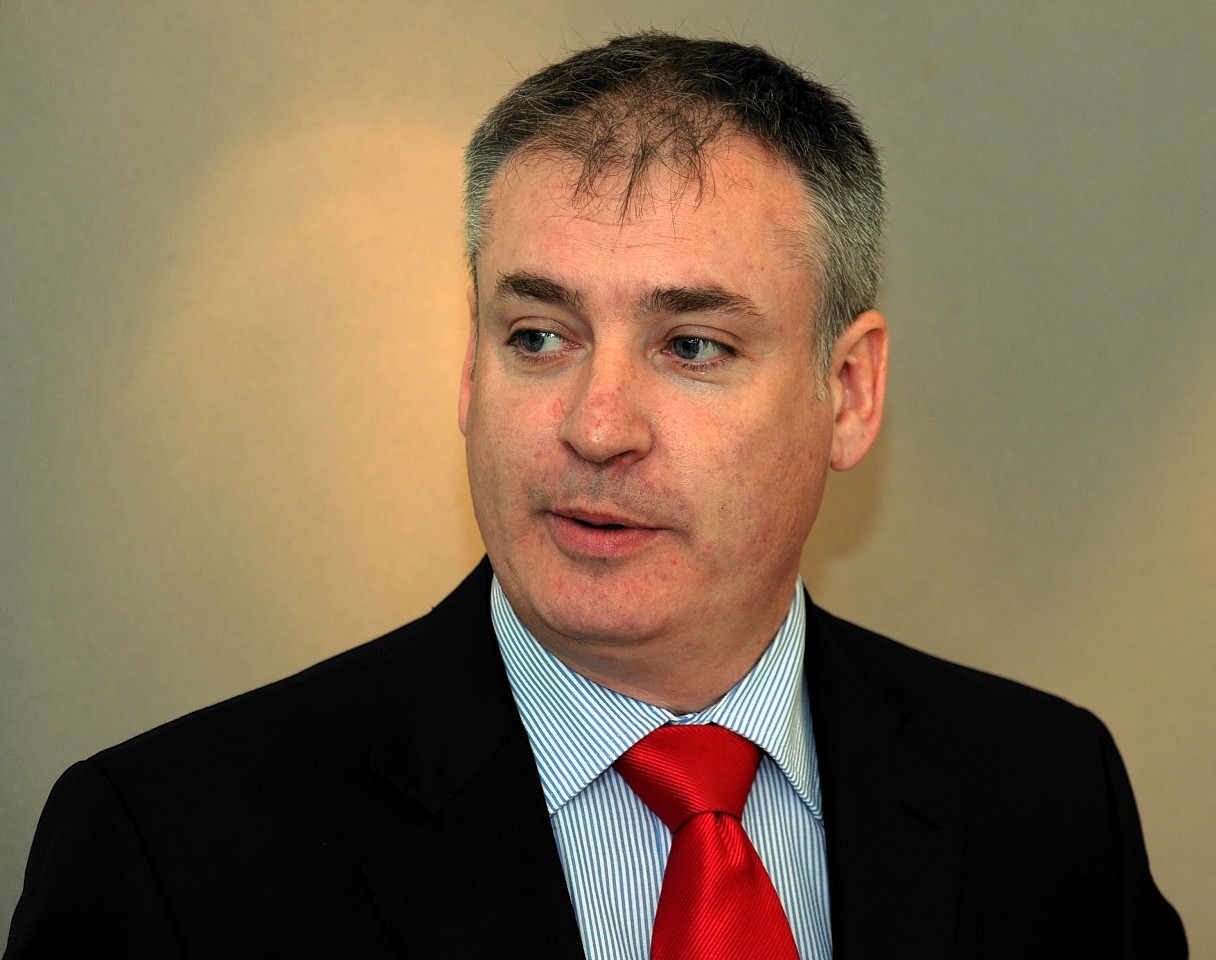 Farm Minister Richard Lochhead sat down with P&J Farming Editor Gemma Mackenzie to try to explain the delays to the farm subsidy payments.
In the one-on-one question and answer session, here is what the minister said.
What is the cause of all the delays to the farm subsidy payments and the problems with the Rural Payments and Services IT system?
I am enormously frustrated with the IT system for not performing more quickly in terms of processing the applications. However, we can't divorce the system's performance from the complexity of what's been asked of it.  It's working. As we speak (Wednesday)  59% of farmers and crofters have received their first instalment of 80% of their overall payments and £150million is out the door.
The system is designed to prevent any payments being authorised that don't meet the EU rules, which is a condition of payment. And while  many applications are making it through the system, others are being blocked.
I was amazed to be told by officials that applications have to be checked against more than  500 EU rules.  Clearly we all wanted the IT system to have been working much more smoothly by now and coped better with that complexity.
Everybody would agree that there are issues with the system.  Who is to blame for the problems with the system?  Is it government or is it the people that have been tasked with building the system?
Well as with all major IT projects, we put the contract out to tender.  We choose the winner.  Senior civil servants run that process and CGI is a recognised company on the UK Government's list of authorised or recognised companies. But you know we have got to be a good customer, or a good client.  So government has got a role to be a good client and the company that's contracted to design the IT system's clearly got a role to do, too.
In due course we have said that we absolutely have to learn lessons and we quite rightly see the case for inquiries into these issues if parliament so chooses.  We would co-operate with that as well and indeed the auditor general is, as a matter of course, going to be reporting on the Futures Programme, which the IT system is a part of, in May.
Going back to 2014, a whistleblower says that he raised concerns about the system with both yourself and First Minister Nicola Sturgeon.  Why didn't anyone act on these concerns?  Or did someone act on them?
All whistleblowing allegations are taken seriously but with what we are speaking about, the senior civil service has  handled that particular case, as far as I'm aware, in a very professional manner.
In a contract of that size we are talking about many different people working on it over time. And the workforce adapts in terms of the numbers with each individual project that has got to be carried out as part of delivering the whole system.
Do you feel confident that government did enough back then in terms of any concerns that were raised about the computer system?
We were always open with the industry, and indeed parliament,  that this was a big ask, given the short time-scale between the decisions, understanding what the EU rules were and then building the IT system which we have to use for delivery of the new Cap.  Under European obligations we have to deliver an IT system.  And that risk has always been there.
Clearly my communications to the industry was always based on the best advice I had from my delivery team. But it was always against the backdrop of the biggest reforms in a generation and the incredible complexity both at European level plus the necessary complexity we added in to the system to try and fit the policy to Scottish circumstances.
Scottish Government contracted the development of this new IT system out to CGI who in turn had another company called Spectromax working on it.  It has been alleged that many of the contractors on this project were sacked and replaced by people working for an employment agency run and owned by a man who worked at Spectromax.  It has also been alleged that the Home Office was called in to investigate the employment status of these people. Why was this allowed to happen and why isn't more being done about these allegations?
Well, you mention some steps that were taken as a result of the allegations.  They were investigated.  The senior civil service oversees  the contractors and where the main contractor has sub-contractors, clearly that's their responsibility to deal with these issues.  But in terms of the government's role, clearly we assure ourselves as far as we can that everything is in order.  And all allegations, as far as I'm aware, have been fully investigated.
The IT system, which you're admitting isn't working fast enough, will have cost an estimated £180million when it's finished.  Where did that money come from and why has it cost so much?
The £178million business case is for the Futures Programme, which is the transition from the old Common Agricultural Policy to the new one and to help implement it.  That covers not just IT.  It covers training of staff and communications.
So far £131million has been spent of the £178million estimated business case, of which £98,250,000 has been on IT and non-IT spend is £32,750,000.  That's up to March 31, 2016.  And clearly this is spread over several years – the £178million – and that is the equivalent to 4% of the money that's being delivered.
So where does that come from?
Scottish Government budget.  It's an IT project paid for from central funds.
Farmers have told me they feel that the government has abandoned the agricultural sector.  They claim that if there had been problems with a system getting out payments for disability benefits or some kind of system that was sorting out medicines, government would have acted straight away.  Why has it taken three months for you and the first minister to step in and say that you are going to now provide this money?
Because we wanted the system to deliver the European payments and we expected to be much further forward than where we are today. And while 59% of farmers and crofters have their payments, we wanted to ensure that anybody who did not have their first instalment at the end of March, will get a payment in April. So that's why we have a substantial pot of national money available   –  £200million   –  which will automatically be issued to those awaiting their first payments and we will claim that back from the European funds in due course.
Would you say then that the £200million is an admission of the failure of the IT system?
Well,  it's an acceptance that we're not delivering payments fast enough.  We are used in Scotland to delivering at the beginning of the payment window and here we are now with a brand new policy – it's the most complex ever – and we are unable to deliver at the same stage compared to previous years.
I was perfectly open with the industry that I would do my damnedest to get as close to the previous timetable as possible, but unfortunately that has proved not possible and I feel as frustrated at that as anyone else. Albeit we always said it was a tall order to match.
With everything being a bit late now, will we ever stop chasing our tail and be back to having everything on track?  Are you confident that come next year we'll have caught up and things will be back to normal?
Well clearly our intention is to keep working on improving the IT system so that it can deliver the payments as and when required and have the flexibility to do that.  This is a transitional year.  There are many one-off tasks that have to be carried out.  There are many software projects that have to be designed for the very first time and used for the very first time.
Clearly I very much hope that in future we're beyond that.  By definition one-off tasks are one-off.   And look where the UK Government were in 2005 going through even less reforms than we're going through just now.  At the same stage they had paid 4% of payments.  That is not to say where we are is acceptable but simply to point out that these are very difficult projects and complex reforms.
A lot of the problems stem back to 2014 when you were busy, along with others, campaigning for the Scottish independence referendum.  Would you say that maybe your eye was off the ball?  Or farmers ask are they being punished for being in the 'No Thanks' camp?
Well whoever made that comment is coming from one particular political perspective. It's not something I have heard from farmers.  I have spoken to hundreds of farmers in the past few weeks and months.
The vast majority of farmers I have spoken to have been reasonable in that they understand the challenge.  They recognise the SNP government's pretty impressive track record over nine years of standing by farmers and crofters in their hour of need.
We were taking decisions in 2014 after close consultation with the industry that led us to adopt extra complexity, which put extra demands on the IT system which we felt were necessary in terms of the future of Scottish agriculture.  And while we were aware of the increased risk to the payment timetable we had advice that this could be done.
So you think it would have happened regardless of what was going on elsewhere?
Yes.  There's no relationship whatsoever.  That's just an argument my political opponents make.
You have faced calls to resign.  What would you say to them?  Why haven't you resigned? Why should you stay?
I will listen to the voice of agriculture, but the voice of agriculture is much more than one individual.  I feel it is an absolute privilege to fulfil my role as Scotland's farming and food minister.  I am very proud of many of my achievements and my government's achievements.
It's not been plain  sailing. It's an incredibly tough job dealing with a very diverse sector which has gone through some tough times.  But each and every step of the way we have been there for the industry in its hour of need.  Ultimately it's up to the people of Scotland and the farming community to use their democratic right to vote, which they will be able to do in the next few weeks, to choose their politicians.
If you are lucky enough to be elected again, would you like to carry on as farm minister?
It's an amazing privilege to do this job.  I have met the most amazing men and women the length and breadth of Scotland, from the Highlands to the Lowlands, east to west, islands to mainland, and I am overawed by the people we have in Scottish farming and the wider food sector. I strain every sinew to represent them as best as I can and do what I think is right for Scotland.
Decisions we have to take as ministers, some people will agree with, others will disagree with. And given our very diverse industry with very diverse interests, you are never going to keep all people happy all the time.  I just hope that the whole industry believe that I do the best I can, with the best intentions, in what I believe is in the best interests of the industry's future.
There's no doubt in my mind that the SNP government has attached much greater priority to food and farming than any previous administration, but ultimately that's for others to judge.
Lastly is there anything else you want to say to farmers who are struggling to pay bills, who are annoyed that they haven't received their payments.  You did apologise at the NFU conference last month. Do you feel that the government needs to apologise again or does the £200million help make up for everything?
I have said sorry previously for not being in a better place in terms of the payments and I along with hundreds of colleagues in government are busting a gut to support the industry at this time given the other pressures that producers are facing.
And I think there is a big debate to be had as to how we can deal with some of the other fundamental issues facing the sector's future in terms of addressing the dysfunctional supply chain, getting a bigger return from the market and devoting more energy and resources to adding value to our primary produce and delivering a prosperous bright future for current and future generations of our farmers and crofters.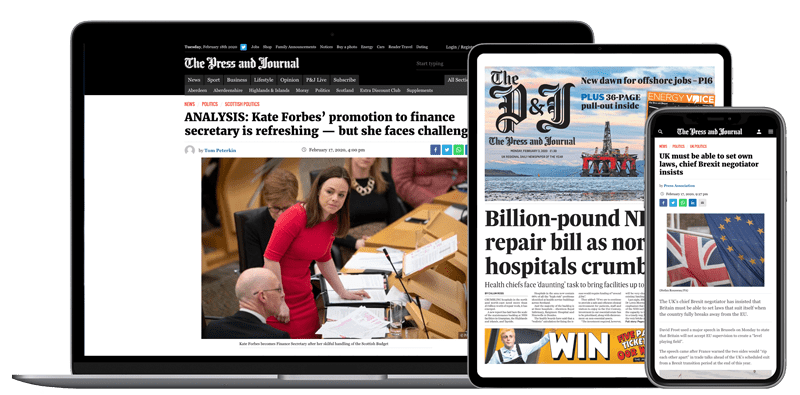 Help support quality local journalism … become a digital subscriber to The Press and Journal
For as little as £5.99 a month you can access all of our content, including Premium articles.
Subscribe