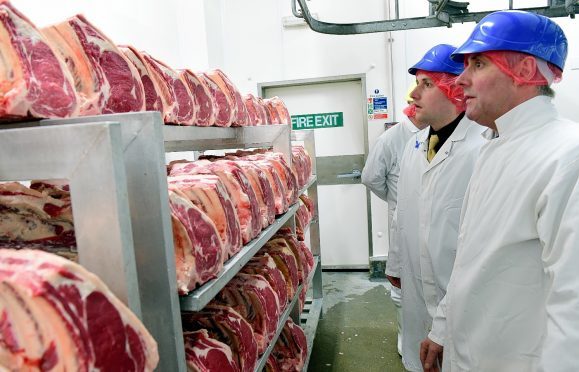 Beef producers need to deliver to specification to ensure the premium for the Scotch brand is maintained, leading meat wholesaler, Alan McNaughton, site director at McIntosh Donald's Portlethen meat plant warned this week.
He was speaking as Huntly butcher, Charles Raeburn, winner of the Scottish Butcher's Shop of the Year title in 2013, and his son, Gary, a former Scotland young butcher of the year, selected 12 sirloins at the Portlethen plant from a total entry of 150 prime cattle from which steaks will be cut for the McIntosh Donald/Tesco best Scotch steak competition at next month's Royal Highland Show.
Both father and son praised the outstanding presentation of sirloins which made selection of the final 12 very difficult.
"We have tried to select sirloins within the right weight range with marbling and a little bit of fat cover to ensure good eating quality," said Charles Raeburn.
Son Gary added: "Demand from retailers these days is for smaller carcases which provide steaks of an affordable size. But they must have a degree of fat to bring out the flavour."
All the carcases fell within the McIntosh Donald specification for weight of 320kg to 400kg, with two at the top end of the spectrum, and comprised five Limousin cross, three Charolais cross, two Aberdeen-Angus cross, one Beef Shorthorn cross and one British Blue cross.
Steaks from the sirloins will be grilled on the Tesco stand at the show on June 24 and sampled by an expert tasting panel to select the winners.
Mr McNaughton said producers were responding to market demand for smaller carcases although there were still too many overweight carcases being produced, which was costly for the producer in terms of impaired feed conversion efficiency and also for the meat processor as excess fat had to be trimmed.
In line with other meat companies, the top weight in McIntosh Donald's specification has been reduced from 420kg to 380kg although price penalties are only being imposed at present on carcases over 400kg.
"The comments of our two judges reinforces the message we have been putting out to producers," said Mr McNaughton. "The quality of the carcases entered for the competition is extremely good and indicates that the message on overweight and overfat carcases is getting through to producers."
He said quality cuts, such as steaks, were selling well at the present time – and would be helped as the barbecue season progressed – but mince and roasting cuts were selling less well which made it difficult for processors to achieve carcase balance and ensure a margin on the whole carcase.
"The retail environment is very challenging and our customers are looking for value for money in terms of portion size and unit price," he said. "Scotch beef is renowned for quality and it is vital that we maintain that reputation by delivering what the market wants and ensuring our product continues to earn a premium."
The ex-farm price of prime cattle has firmed slightly over the past three weeks to £3.30 to £3.35/kg after falling to a low of £3.25/kg. Mr McNaughton expects prices to stabilise in the coming weeks.
"The price trend has bottomed out but I don't see much change in the foreseeable future," he said. "The good news is that our customers are still keen to buy beef if the price and product is right."