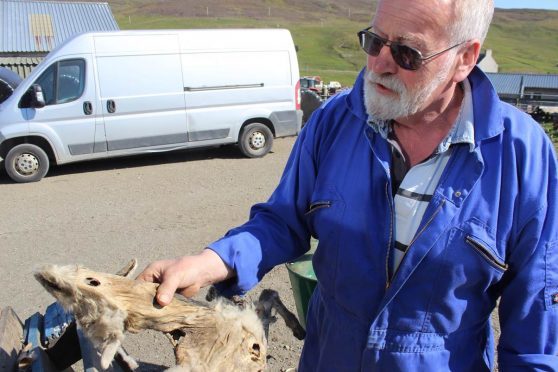 A Shetland farmer has told of his devastation after nearly 100 of his sheep were shot by a group of young men on a gun rampage.
Allan Ridland, who has been farming at Punds, Voxter all his life, said his life has turned into "hell on earth".
Police in Shetland have issued an urgent appeal asking for anyone with information to get in touch.
Speaking to Shetland News last night, the 68 year old farmer said he was not the only one who had livestock killed over recent months.
At least five other crofters in the area had also suffered losses, he said, adding that the total number of sheep shot dead was about 120.
Ridland said that since March last year, 97 sheep have been shot dead on his land, mainly lambs, but also ewes and hogs.
He also had two cattle shot, with both animals suffering severe injury.
"It is only in this last month that I started tying all this together," he said.
"Initially I thought somebody was targeting me personally, but now I have come to the conclusion that this is a form of vandalism whereby some individuals get some sheer and utter enjoyment from seeing something dying."
"Anything that moves gets shot. That's the truth of the matter."
Ridland recalled one evening when he came home after visiting someone in Lerwick to find 27 baby lambs and their mothers slaughtered.
"It was carnage, absolute carnage, they were one, two and three days old. You wonder who can do something like that; psychopaths really.
"I am actually frightened to go out now, in case I meet them," he said.
With his farm located next to the Voxter Outdoor Centre and a popular plantation of trees nearby, he said it scared him to imagine what else could happen.
President of the local NFU branch, Jim Nicolson, said he was "shocked" when he heard of the shootings on Sunday afternoon.
"It is difficult to comprehend why any person or persons should do such a thing," he said.
A spokesman for Shetland police said officers would like to speak to anyone with information that could help them track down the culprits.
They said the animals were found by their owner on land around Voxter, with some of the sheep suffering multiple gunshot wounds.
Police in Lerwick can be reach by phoning 101.