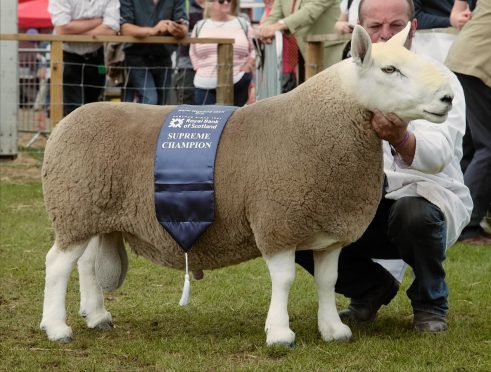 North Country Cheviots dominated the sheep interbreed championship at the Royal Highland Show.
Judge Jimmy Irving from Mountberger, Selkirk, selected a park type for his champion and a hill type for his reserve.
Mr Irving, himself a Cheviot breeder with North hill type, South Country Cheviot and Blackies, described his champion as a "good powerful tup" which was a good example of the breed.
He was referring to three-shear tup North Synton Ringmaster from Billy, Kate, Dallas and Ruth Allen from Humbleheugh, Alnwick.
This was the first championship win for the Allens who were on their third outing to the Highland.
Ringmaster was bought as a shearling at Lockerbie for £4,000 and sired by Wester Sensation. He lifted the male championship at the Highland last year and also stood reserve North Country Cheviot park type.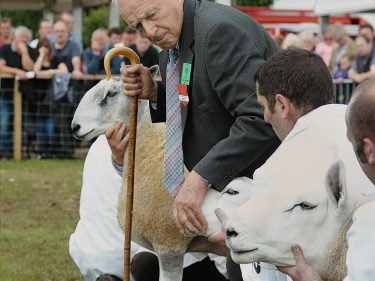 Standing reserve overall sheep interbreed champion was a six-year-old home-bred North Country Cheviot hill type ewe from William and Jim Thomson, Hownam Grange, Morebattle, Kelso.
The ewe, which was named Molly, stood reserve female champion at the Highland last year and winner of the national show at the Black Isle in 2014.
This was the third reserve interbreed title win for the Thomsons who have taken supreme interbreed four times before.
In the sheep interbreed pairs competition a duo of Hampshire Downs from Richard and Grant Brand at East Fortune, North Berwick.
They impressed judge Herbie Kennedy from Dumfries with a home-bred ram lamb and home-bred ewe lamb that had stood champion and reserve in the breed section previously.
The ram-lamb – East Fortune 159 – is by Wattisfield What If and out of a home-bred gimmer. The ewe lamb – East Fortune 164 – is by Wattisfield What Not and out of Wattisfield 179. Both lots were born in the middle of December 2015 and on their first outing.
The reserve interbreed pairs title went to a duo of Ryelands from Janice Henderson in Kinross and Susan Bryden in Lockerbie.
The winning pair comprised Mrs Henderson's home-bred tup lamb and Ms Bryden's gimmer.
The tup lamb – Landriggs Wild Thing – is by Landriggs Tam Dhu and out of Landriggs Spice. The gimmer – Eaton Vee – was bought at a lamb at Carlisle last year. She was bred by William Furness in Cheshire and she is by Cagedale Shearer.
Meanwhile, in the Jacob section the champion title went to a one-crop ewe called Hope Becky from Willie and Edith Crowe, Heughhead Farm, Froickheim, Arbroath, Angus.
Becky was bought as a lamb at St Boswells. She is by Hyndshaw Highland Laddy and out of a Hope ewe. She was champion at Angus last year and second to a flockmate at Angus this year.
Reserve went to a home-bred two-shear ram called Dun-mor Ace from Gordon Connor and Scott Dalrymple, Dun Mor, Auldhill Road, Linlithgow.
He is by Erindale Harlem and out of a Pentrenant ewe. He was champion at East Fife Show on his only other outing this year.
Lastly in the goat section the champion rosettes went to a two-year-old milker from Gordon Webster and Gordon Smith, of Guildy Den, Monikie, Dundee.
Guilden Erin, which is by guilden Blue and out of Toddbrook Elentari, lifted the female championship at the Angus Show earlier this month.
Standing reserve at the Highland was three-year-old Ladeside Ladyria from Fiona Fairley at Avonvale Cottage, Avonbridge, Falkirk.
This one is by Guilden Glenavon and out of Ladeside Ladyrima. She last kidded in March last year.