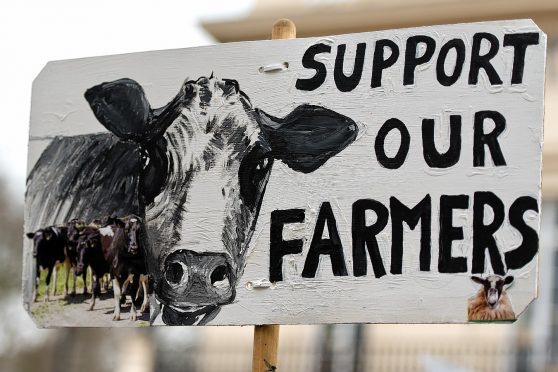 A fresh wave of milk protests could be on the horizon if retailers and processors don't increase the price paid to farmers.
Lobby group Farmers For Action (FFA) and the Tenant Farmers Association (TFA) have called on milk buyers to ensure the recent uplift in dairy commodity prices is passed on to primary producers.
FFA chairman, David Handley, who organised a farmers' march to London earlier this year over low farmgate prices, said the two organisations were calling on retailers and processors "to act without delay to ensure fairer returns to airy farmers at this time".
"Milk prices on the spot market have leapt dramatically and look set to improve further. However some processors and retailers are holding back from allowing fairer returns to dairy farmers and that is unacceptable," said Mr Handley.
"Unless we see urgent change we will have no option but to take our protests to the doors of those retailers and processors who are most to blame."
TFA national chairman, Stephen Wyrill, said the remit of the Groceries Code Adjudicator needed to be extended to cover relationships all the way through the supply chain and not just those between processors and retailers.
"The adjudicator should also have a remit to report on the share of the retail price of milk and other grocery items received by each part of the supply chain. This price information would inform contractual negotiations between farmers, processors and retailers," said Mr Wyrill.
Meanwhile, NFU Scotland said it was contacting all milk purchasers in Scotland calling for them to immediately increase the prices paid to farmers.
The union's milk committee chairman, Graeme Kilpatrick, said: "A combination of the dire economics of producing milk and a cool, damp summer has seen production plummet by almost 11% year on year. That has left milk processors short of milk and spot prices approaching 30p per litre.
"There is every justification for all milk buyers to be increasing prices right now by several pennies per litre and not just the fractions of pennies that we have seen to date."