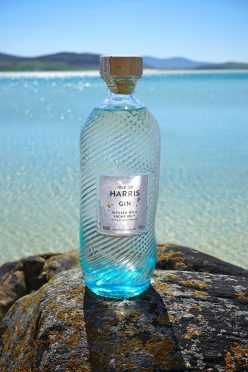 A bottle shortage has forced a small Western Isles distillery to temporarily stop production and ration the supply of its popular gin.
Yesterday, the managing director of the Isle of Harris Distillery, Simon Erlanger , said the company was doing everything it could to keep limited supplies flowing until it's specially designed bottles are available again.
The shortage has been caused by a combination of the temporary closure of the factory that produces the ribbed glass bottles and what the spirit company described as the "unexpected popularity" of its product.
Measures introduced during the rationing period include a one-off "refill" bottle for its bar and restaurant customers.
Since the distillery opened last October in Tarbert, sales of the award-winning, £35-a-bottle gin there and online have "greatly exceeded initial expectations," the company says.
But it is now in short supply, with the Yorkshire factory of specialist manufacturer Stölzle Glass Group closed until September for a major furnace renewal.
From today, sales online and from the distillery shop will be limited to one bottle per person.
From 1 September, online sales will be delivered 'when available' with the company currently anticipating deliveries being made at the end of the month.
Mr Erlanger said: "While islanders are no strangers to shopping shortages, particularly during the winter months, our customers in mainland towns and cities may find this a little more unusual.
"We're doing everything we can to keep limited supplies flowing, including a one-off 'refill' bottle for our bar and restaurant partners.
"We'll be taking advance online orders as of early September until full production begins again towards the end of the month."
The distillery also produces new-make spirit for its planned Hearach Single Malt Whisky.
It has created a number of new jobs on the island during its first year and currently employs five distillers.
Mr Erlanger added: "The demand for our spirit has been such that we've recently recruited a fifth local distiller and increased the number of staff in the wider team to help meet the needs of our customers."