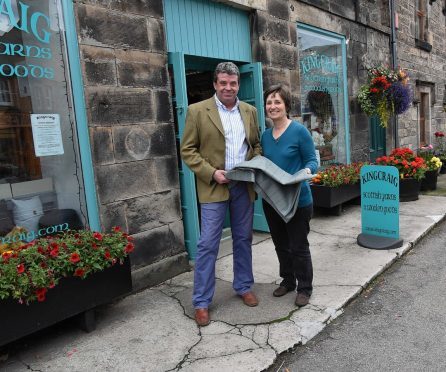 Each week, we ask small businesses key questions.
Here we speak to Shaun Ashe, who runs textiles firm Kincraig Fabrics in Brora, together with his wife, Pat.
How and why did you start in business?
Born in Lancashire, I started work at 16 as a temporary, seasonal casual clerical assistant with Post Office Telecommunications (later BT), before moving to a management role in London in software development.
It was there that I met my wife, Pat. After 15 years in London we had both become very disillusioned with corporate life and decided to take a leap into the unknown and move to Brora. We had discovered the village through golf and loved the area.
We had no firm plans when we arrived 12 years ago, but Pat is a qualified accountant and soon joined the local accountancy practice – where she remains today. However, things were more difficult for me. There were no obvious job opportunities locally and I'd had my fill of commuting.
Fortunately, I met a wonderful man called Ken Clark who had worked as a production director at the Hunters of Brora woollen mill. He had bought a lot of the remaining stock when the mill closed.
A trained designer, Ken knew exactly what to do with the weaving yarn – but what about the knitting yarn? It was fabulous and unique and Pat, being a knitter, knew there was a market. We started selling knitted products online.
How did you get to where you are now?
Through hard work, putting customers first and focusing on quality.
The online businesses went very well and after three years we opened our first shop in Brora. This was followed three years ago by a second shop, in Dornoch. Both operate under the name Kingcraig.
We've expanded our product range significantly and now stock our own tweed fabrics, as well as designing our own throws and scarves and producing ties and gents' caps. We are the biggest stockists of Olney ladies' hats in the north.
Who helped you?
Ken Clark – sadly no longer with us – started me in the business and introduced me to many invaluable contacts. He always said that if you threw him a cone of yarn, by the time he caught it he would know what to make from it. He was a great man.
Pat works three days a week as an accountant and the other four running our business and making cushions, capes and bags for the shops. She is also the sensible, realistic one, reigning in my more radical ideas. We work perfectly together.
Membership of the Federation of Small Businesses (FSB) gives us the essential safety net that all firms require.
What has been your biggest mistake?
Not starting in business earlier, though I dropped a major howler when we commissioned a signwriter for our Brora shop. We were so involved with the design that we failed to notice that he had spelt "woollen" with just one "l". I don't think anyone has noticed.
What is your greatest achievement?
Creating a successful business in which customer satisfaction is as important as financial return. Providing great quality, value for money and customer care are really important, and there is nothing better than hearing customers say they love shopping with us.
If you were in power in government, what would you change?
I'd do more for small businesses and start-up companies. I have the FSB to thank for bringing to my attention the review into the rates system and the importance of the small business bonus scheme. If government is serious about breathing new life into high streets, they should expand the scheme further.
What do you still hope to achieve?
We're going to relaunch our website, focusing on our fabrics and their use in home furnishings.
What do you do to relax?
Golf, when I get the chance, and mess with my guitar – but only to entertain our three cats.
What are you currently reading, listening to or glued to on the TV?
I'm looking forward to the next Peter May book. I really enjoy his Enzo series plus the Black House trilogy. I only watch the News live on TV. Most of my viewing is done on catch-up, which is brilliant.
What do you waste your money on?
I love music playing throughout the house and have wireless speakers in most rooms.
How would your friends describe you?
Hopefully, easy to get on with and mostly laid back.
What would your enemies say about you?
I don't think I have any. The saying that you can't get on in business without making enemies is rubbish.
What do you drive and dream of driving?
A 10-year-old Renault Laguna, with 120,000 miles on the clock. We used to have a lovely old campervan but it's now gone to the great scrap-yard in the skies, so we're looking for something powerful and sensible to tow a caravan. I wouldn't mind a Vespa again but don't tell Pat.