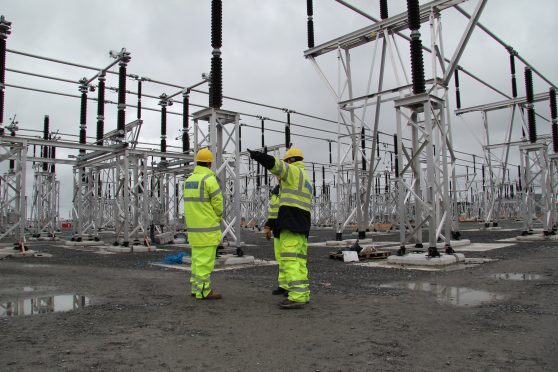 It is the largest renewal of the north of Scotland's electricity network since the development of dams and hydro stations a generation ago.
And this week power giant Scottish and Southern Energy (SSE) claimed a "key milestone" in its £1.1 billion Caithness-Moray transmission link scheme as the first section of the line was switched on.
The massive project is centred on construction of a high voltage interconnector cable, running from Spittal, in Caithness, under the Moray Firth, to Blackhillock, near Keith, in Moray.
As well as laying the 100-mile underground and subsea cable, it involves work at eight substation sites, two converter stations and two overhead line reinforcement projects.
This week's milestone, the result of almost three years' work, saw a 275 kilovolt overhead line circuit between Knocknagael, in Inverness and Kintore, in Aberdeenshire, go live. The line is connected to the Blackhillock substation, which has been expanded as part of the project and is now the largest in the UK.
Tony Scott, SSE's project director, transmission programmes east, said: "Caithness-Moray represents the largest investment in the electricity network in the north of Scotland since hydro development in the 1950s. Once complete, it will significantly reinforce the country's transmission network and aid our transition to a low-carbon economy.
"I'm delighted to mark this first milestone, particularly as it has been delivered exactly to the schedule we set out three years ago. This is testament to the operational excellence of our teams, who are now committed to building on this good start in future construction phases of the project."
Commissioning is  under way on the remaining 400 kV and 132 kV circuits, which are scheduled to complete by the summer of 2017. Work to install the 1,200 megawatt interconnector cable, which will use High Voltage Direct Current (HVDC) technology, is due to start next year.
The Caithness-Moray project is on schedule for completion in 2018. Once operational it will enable an additional 1,200 MW of electricity from renewable energy developments, including the Beatrice offshore and Dorenell onshore windfarms, to be transmitted to the national grid.
A recent study by SSE into the economic impact of the project showed that it will deliver a £634.5million boost to the UK economy, supporting over 10,000 years of employment.  Of this, the company says, £265.5million will be contributed to the Scottish economy.