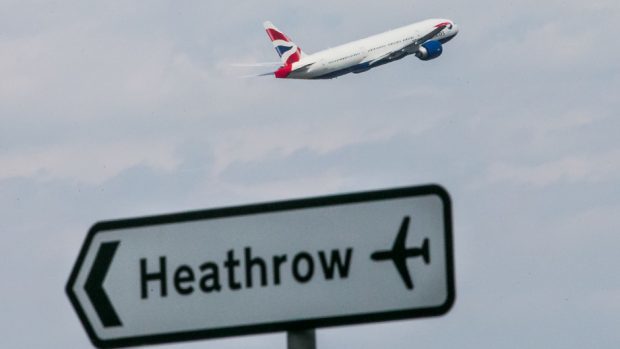 Heathrow Airport bosses raised the prospect of more services to London from Aberdeen, Inverness and other Scottish airports yesterday.
But the potential for more planes to the UK's hub gateway from 2021 came with a catch – the tantalising offer of extra capacity to accommodate up to 21 daily flights to regional airports hinges on the UK Government allowing Heathrow to grow, and not Gatwick.
Ministers are considering which one of three expansion projects to support – two at Heathrow and one at Gatwick – and a decision is expected within weeks.
Gatwick has claimed its project is the only one that can realistically be delivered.
Heathrow bosses said yesterday the UK's decision to quit the EU had "increased the need to deliver more growth for every corner of the UK faster".
Outlining the airport's new "Brexit boost plan", chief executive John Holland-Kaye said it would generate around £55billion more in growth than Gatwick in the early years after Britain leaves the bloc.
He added: "Our proposals for an additional 25,000 flights a year from 2021 would help businesses and families from Inverness to Dundee.
"Heathrow's third runway is the only option that can help every nation and region of the UK realise the opportunities of Brexit."
Heathrow's full package of measures to support Scottish growth include creating space for up to 25,000 additional flights a year flights from 2021 – four years before the proposed third runway is built.
Bosses said they would also work with the government to make sure the new capacity – up to 21 daily flights – was dedicated for use specifically on "UK routes like Aberdeen, Edinburgh, Glasgow and Inverness".
Business leaders in the north view a third runway at Heathrow as essential to the continued economic growth in the Highlands, and are pressing for a second daily service from Inverness.
"Today's Heathrow announcement is a major bonus for Scotland and airports across the country," Highlands and Islands Airports (Hial) managing director Inglis Lyon said, adding: "We have been talking to the team at Heathrow for some time around further expansion of our relationship … and look forward to working on the plans they have highlighted."
Highland Council leader Margaret Davidson saidd: "We have consistently made the argument that Inverness Airport needs to have improved links to the main UK hub.
"This is a key issue for businesses in Highland and is also an important factor in attracting inward investors to our area."
Aberdeen International Airport managing director Carol Benzie said: "Heathrow is the most popular route from Aberdeen … because of the onward connectivity it provides.
"We have long supported the expansion of Heathrow and would urge the UK Government to endorse the findings of the Airports Commission, which unanimously backed a third runway."