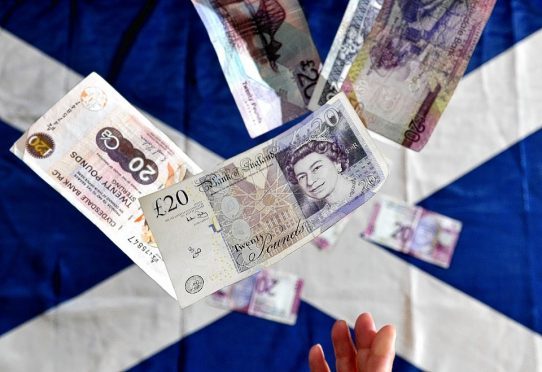 Small and medium sized businesses in the north-east will benefit from only 1% of a £25million European funding pot after local authorities did not apply to get the cash.
Aberdeen and Aberdeenshire will only see £360,290 in support for businesses despite facing the one of the worst downturns in years due to the oil price collapse.
This compares to the Highlands and Islands which has successfully won £2.3million for firms in the region.
The European Regional Development Fund cash will be made available to firms through Highlands and Islands Enterprise, Scottish Enterprise and Business Gateway, a business support programme managed by local authorities.
Andrew Burnett, director of operations at Elevator, which operates Business Gateway on behalf of Aberdeen and Aberdeenshire councils, said he was "surprised" by the low figure allocated for the north-east.
He added: "1% seems pretty low.
"Even just looking at the Business Gateway allocation of work, we deal with 20% of Scotland's Business Gateway activity in Aberdeen and Aberdeenshire. If it was a proportionate breakdown of European funding based on Business Gateway activity it would be more like 20%."
A spokeswoman for the Scottish Government said it was down to local authorities to secure cash from the ERDF.
"The fund is applied for by local authorities.
"What is allocated is what is applied for.
"Basically there haven't been the applications from the Aberdeen and Aberdeenshire area," she said.
A spokesman for Aberdeenshire Council, which leads on the region's Business Gateway, insisted that the authority was "proactive" when it came to European funding.
"We do draw down a lot of European funding especially in coastal and rural communities. We do tend to be very proactive on that front," he said.
The Scottish Government estimates more than 20,000 Scottish businesses will benefit from the £24.4million ERDF grants which it expects will leverage a further £36.2milllion in match funding.
Scottish economy secretary Keith Brown, who will confirm the funding at an event in Irvine today, said: "This is a fantastic opportunity to support our SMEs – the engine of the Scottish economy. "The investment will benefit more than 20,000 enterprises, with the aim of identifying and developing our next 1,000 growth businesses. Business Gateway support alone is forecast to create 11,000 jobs.
"This investment shows exactly why the best way to guarantee jobs, investment, services and projects across the country, is by maintaining Scotland's relationship with the EU.
"Collaboration has been so important in bringing this funding together and I applaud the hard work from the Scottish Local Authority Economic Development Network, Scottish Enterprise, Highlands and Islands Enterprise and numerous local authorities."