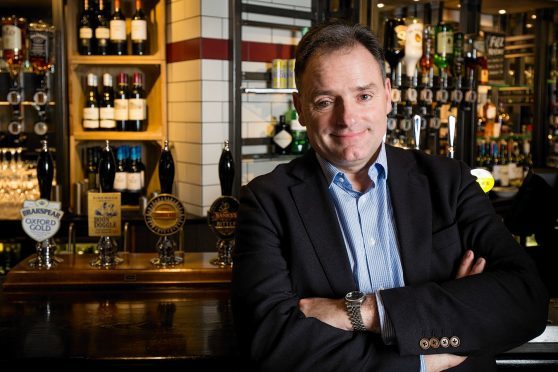 Brewing and pub giant Marston's is targeting the north and north-east as part of future expansion plans for Scotland.
The Wolverhampton-based company already has the go-ahead for a pub-restaurant in Peterhead.
And Aberdeenshire councillors have backed in principle plans for a 38-bedroom Marston's hotel on the same site at Invernettie roundabout.
Marston's chief executive Ralph Findlay said there was more to come.
He said: "Will there be sites further north? Yes, there will – we already have two sites in Peterhead and Inverness, and are keen to find more, particularly around Aberdeen."
Marston's first pub-restaurant opening in Scotland was in April 2013, and since then the company has moved swiftly to establish its business north of the border.
Mr Findlay said: "We now have 13 pub restaurants, mainly across the central belt but also in Dunbar, Forfar, Dumfries and Balloch. That represents about £40million of investment, and the creation of around 500 jobs in three years.
"In deciding to invest in Scotland, we were very clear that we were not targeting the traditional pub market.
"All of our pub restaurants were new-build, with a contemporary design, good accessibility, parking and attractive gardens.
"We are aiming at family dining, and typically around 60-70% of our sales in any one pub come from food – that means around 90% of our customers are mainly coming for the dining experience.
"Because of this, the change in drink-driving legislation in 2014 didn't have a significant impact on us."
He added: "We are also in the lodge market, and to date we have built lodges in Dunbar, Balloch, Dunfermline, and Stevenston.
"2017 will see us do more of the same – we are targeting openings in Livingston, Rutherglen, Kirkcaldy and Lenzie in the next few months, as well as new lodges in Stirling, Livingston, and Ravenscraig.
"By the end of next year I think we will have 17 brand new pub restaurants and seven lodges in Scotland, representing over £50million of investment and more than 800 jobs."
Asked if current political and economic uncertainty affected Marston's plans for Scotland, Mr Findlay said: "What makes a difference to us is whether the political and economic climate is one that is good for business – and that encompasses taxation, regulation and prosperity.
"That would be a consideration for our investment in Scotland as it would be for the whole of the UK. I strongly believe that investment by us is good for communities and good for jobs."
Marstons, previously Wolverhampton and Dudley Breweries, has been running pubs and brewing beer in one form or another for more than 180 years.
The company as it exists today was formed in 1890 through a merger of three breweries in the English midlands, two in Wolverhampton and another in Dudley.
It adopted its current name in 2007, following a spell of rapid expansion in which it acquired Burton-based brewer Marston, Thomson & Evershed – home to Marston's Pedigree – and its 918 pubs across the East Midlands, north-west England and North Wales.
The FTSE 250-listed firm now has around 13,000 employees working in its five breweries, traditional locals, pub-restaurants and town/city centre bars throughout the UK.
It owns more than 1,700 bars and pub-restaurants from Angus to Cornwall, with more to follow as it continues its push north.
Rachel Newnes, , the group's acquisitions manager for Scotland, said the new operation next Invernettie roundabout in Peterhead would open in autumn 2017.
She added: "We look forward to being able to build and open a pub in this area as part of Marston's ongoing investment in Scotland."