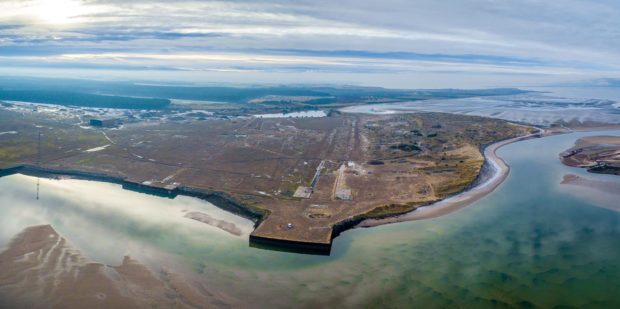 A Derbyshire-based land and property developer has emerged as the new owner of the former fabrication yard at Ardersier, in the Highlands, following a £5million deal.
CWC Group now lists the 700 acre site, near Nairn, among its nationwide portfolio of 118 properties, but the company's plans for the land are not yet known.
There has been widespread speculation over the future of the site since it went on the market earlier this year after its previous owners, Port of Ardersier, went into administration.
The former owners had hoped to turn the yard, originally built to fabricate massive steel jackets for North Sea oil platforms, into a manufacturing "super-hub" for offshore wind.
The completion of site's sale, for just over £5million, was revealed in a recent progress report by administrators KPMG.  Although completed on Friday July 8, news of the sale was greeted with surprise in the Highlands this week.
Yesterday Gordon Arthur, director of Edinburgh-based Clowes Developments (Scotland) Limited, part of the CWC Group, failed to respond to requests for further information on the company's plans for the land.  KPMG also said it would not be "offering any further comment at the moment."
A spokeswoman for Highland Council said the authority did not know about the CWC Group's plans and the company had not yet been in touch with the planning department.
Inverness, Nairn, Badenoch and Strathspey MP Drew Hendry said: "We will need to hear more about the new owners and their future plans, but it is certainly positive news that this site has finally been bought.
"The potential of this site, if put into productive use, is enormous and if that potential is realised, there is a clear prospect of the creation of substantial numbers of jobs."
Based in Brailsford, Derbyshire, the CWC Group was founded in 1964 by Charles Clowes, who went on to feature regularly in the Sunday Times Rich List of Britain's richest people.  Mr Clowes died in February last year, with his son David, a former commercial pilot, taking over as chairman of the group in the same month.
On its website, CWC Group says it is "fuelled by its own hard-won resources" and "has raised itself from the ground to become one of the largest and strongest privately-owned UK property investment and property development organisations."
The group owns industrial, commercial, office, retail, leisure, residential and mixed-use sites throughout the UK, which it runs through 16 active trading companies and a number of management/service companies.
According to the group's figures, it made pre-tax profits of £18.2million in the year to March 31, 2016, with a turnover of £46.6million for the year.
Previous purchases by the group in Scotland include the former Stoddards carpet factory in Kilmarnock, which is being developed as a residential site.
When the Ardersier site was put up for sale in February it was specified that it should be taken on in its entirety rather than being broken up.
It includes 340 acres suitable for development and a 3,280ft-long harbour protected by a sand and shingle bank.
Planning permission in principle remains live from 2014 to establish a port for the energy industry, as well as previously approved planning consent to build 2,000 houses, a hotel, 500-berth marina and retail an leisure facilities.