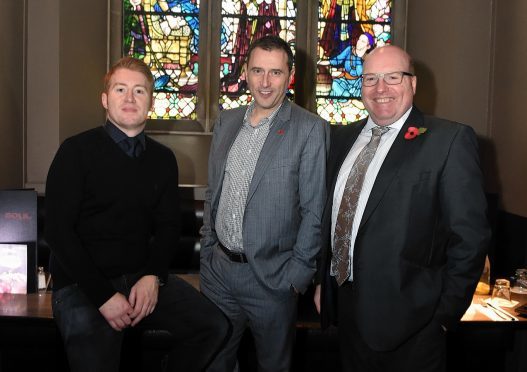 Christmas has come early to Soul, the popular restaurant and watering hole based in the splendour of the former Langstane Kirk at the centre of Aberdeen's Union Street.
A festively-decorated tree heralding the start of the busy party season greets our lunch guests, who are hoping that the season also brings joy, good will and healthy bank balances for companies in the north-east that are facing the challenges of the oil and gas downturn.
Russell Borthwick, chief executive of Aberdeen Chamber of Commerce (AGCC), has been spearheading a campaign to encourage companies to spend money with other local companies.
The Buy North East campaign, which is backed by a number of agencies including the Press and Journal, has attracted the support of hundreds of companies who have pledged to raise the issue at board level and move at least one piece of business to another local firm.
As we take our table tucked into a discreet corner underneath a stained glass window, he says: "The feedback has been good. People are willing to embrace it.
"A lot of people say they have always been of that mindset but this has given them a platform to talk about it and pin their colours to the mast.
"It has made some people challenge their thinking and say 'we probably do need to revisit the way we operate' which was one of the objectives we had. We put it on the agenda."
Bob Keiller, who advises business owners through his consultancy AB15 and is also the chairman of development agency Scottish Enterprise, has also got behind the campaign. But the tack the former chief executive of Wood Group has taken has been to urge companies that are keen to find new customers to hone their pitch process.
He says: "Look at everything a business needs locally. Say you want your books done. By going to a branch office of a national provider, is that supporting a local job? Is that right or wrong? Is it better to find to find a medium-sized locally-owned business that can do the same thing but may not have the skill sets? It is a difficult one.
"At the end of the day the nationals still provide jobs but what they don't so is retain the profits in the local economy," he adds.
Mr Borthwick adds: "We aren't expecting the whole supply chain can be served. You can't build a wall around Aberdeenshire and say you have to get everything from here. That is not what this is about. It is about shifting the balance a bit."
Our third is Paul Clarkson, who is both host and guest at this lunch. He is a director of PB Devco, a family-owned pub and restaurant group that runs a number of Aberdeen's favourite venues, from the Bieldside Inn in leafy Cults to Rosemount's welcoming boozer, the Queen Vic. Last year the company came to the rescue of West end stalwart, Dizzy's, when its long time owners decided to hang up the bar rag and retire.
Our guests have all opted to dive right into the main course. Mr Keiller and Mr Clarkson opt for the classic fish and chips (panko-breaded), while Mr Borthwick goes for scampi and chips. As our meals arrive, Mr Clarkson is put on the spot: How much of our lunch has been sourced locally?
He does not have to hesitate: "All of it," he says. "We use primarily local suppliers.
"That has been historic through the years. We have stuck with the suppliers who we have been with for many years. King Foods is our big supplier. We also use Donald Russell from Inverurie. Local veg suppliers. We try to get as much as we can local.
"I'm a great advocate of that. It frustrates me when I see busy national chains that serve pretty low quality food that comes in on a big service truck."
Mr Keiller says: "That's why I ordered the fish, I knew it was from around here."
And he is right. Mr Clarkson responds: "The fish gets landed by the Ocean Venture in Peterhead. That is King's Foods main haddock supplier."
Our lunch has come hot on the heels of the shock US election which returned Donald Trump as president-elect. Part of the maverick Republican's campaign was based on warning of the the dangers of globalisation and pledges to reverse free trade agreements which have been blamed for reducing jobs in the US and exporting them to low-cost centres.
And while the Buy North East campaign aims to put emphasis on keeping investment in the local economy, its supporters see the possibility of a balance between the extremes between local to global trade.
"It depends how far it goes," says Mr Borthwick. "Protectionism would feel bad. History would tell you it is not a good thing. But if there is a middle ground which is about asking the question and looking at that localness – do we have to be homogenous? That is the challenge."
Mr Keiller adds: "If you look at the capitalist system, it tries to drive maximum efficiency out of organisations. Getting that system to also balance the dimensions of different stakeholders is an issue.
"The Company Act changed to try and ensure boards of directors of UK companies considered things beyond profit. But in reality I would suggest in many cases that is not the case.
"Giving consumers the willingness to say I will pay a little extra if necessary because I know it is local, that is a different balancing act.
"Behaviours have to be driven by people – they need to want to buy something that just happens to be local because it is bloody good."
The local buying campaign is just one plank of efforts to rejuvenate the city's economy. Mr Keiller notes how Edinburgh benefits from the buzz created by its host of annual festivals from Hogmanay to the Tattoo to the Book festival. The recently concluded Aberdeen Comedy Festival, promoted by impresario Naz Hussain through his Breakneck Comedy organisation along with the city's business improvement district, Aberdeen Inspired, sold thousands of tickets to 250 shows across the city.
"In Aberdeen there is comedy scene now that wasn't there five years ago that was created by Naz and the guys," says Mr Keiller. "One of the elements of the equation is events. Events for different types of people – because not every body is into that. They could be learning-related, science-related, retail or food-related, food related. But expecting the market to come up with these things is probably a bit optimistic. We need to have more events that stimulate people to come and take part."
Mr Borthwick points out that a strategy is already in place to start delivering major events in the region. One of the first announcements was about the establishment of the Great Aberdeen Run – 10k and half marathon races through the streets of the Granite City to be held on August 27 next year.
Mr Borthwick says: "There is a masterplan, Aberdeen 365, which is aiming at this. The Great Aberdeen Run was a statement of intent."
Mr Keiller, who ran the London Marathon a few years ago and raised over £60,000 for social enterprise, Glencraft, leans over to Mr Borthwick: "Have you signed up yet?"
Mr Borthwick says he has not – yet: "They will make a success of it. The Great Run company said they think it will be the fifth biggest half marathon in the UK, that is their ambition for this.
"For the first year we are hoping to get 10,000 people out running in the street. It is the sort of thing we would have found an excuse to make not happen a few years ago, but there is now a mind set we have to make things happen."
Last year PD Devco opened a new sandwich bar on Union Street – So – established to give national chains like Pret a Manger and Starbucks a run for their money as well as sourcing ingredients from local food producers.
"It's the first venue where we aren't selling alcohol," notes Mr Clarkson.
He says he has been toying with the idea of opening another So outlet at the emerging office development at Marsichal Square, where another north-east family business, Mackie's of Scotland, has unveiled tasty plans for an ice-cream parlour.
"It would be great. Mackies in there is good. If it was all local that would be amazing," he says.
It emerges that Mr Clarkson has yet to join the Buy North East campaign, which is coming to the end of its successful run this month, despite having local sourcing at the heart of his business.
Will he sign up?
"I'll definitely sign up," he says.
For Mr Borthwick, he is now looking ahead to the next stage of the Buy North East campaign in January. One idea is to take the campaign to consumers whose spending means so much to so many local businesses.
"We are wondering what the next phase looks like," says Mr Borthwick.
"Largely up until now the focus has been on getting businesses to think about procuring from other local businesses. And with Bob's help making sure suppliers are fit for purpose so they can go and win that work.
"There might be a consumer angle – a badge of honour. Paul's cafe is trying to make it local. But do the punters really know that? Could we create a badge of honour that says these retailers, bars and restaurants are accredited – so if people want to make that choice they see the sticker on the door. That could be phase two."