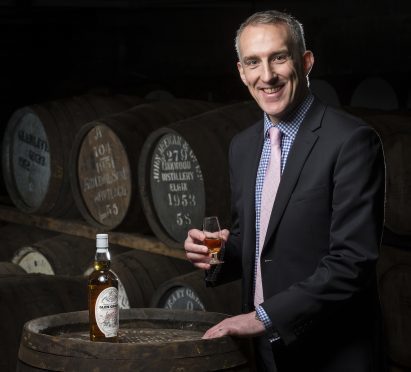 Whisky specialist Gordon & MacPhail (G&M) is preparing to step up production at its Benromach distillery, in Forres, to meet soaring demand for the brand.
Yesterday the Elgin-based company's finance director, Norman Ross, said output at the 118-year-old facility would increase by "roughly a third" from January.
He said the decision to boost production had been taken during the firm's last financial year, which saw sales of its Benromach range of single malts soar by 36%.
Figures released by the family-owned business also showed pre-tax profits for the year to February 2016 at Speymalt Whisky Distributors Limited, which trades as Gordon & MacPhail, virtually unchanged on the previous record year at £3.9million.
Turnover at the company, which operates as a bottler, exporter, distiller and wholesaler, as well as running a retail shop in Elgin, increased by 2.9% to £25.5million.  Export sales rose by 3.3% and sales in the UK were up by 2.8%.
Mr Ross said:  "Last year was an exceptionally good year for us and it is heartening that we have maintained a similar profit level this year against a background of challenging conditions for the industry generally.
"We continue to invest for the future.  It's an approach we have adopted successfully for many years, in keeping with one of the long-standing principles of the business."
During the year G&M completed new warehousing and upgraded visitor facilities at Benromach and also bought a parcel of land adjacent to the distillery for future growth.
Mr Ross added: "We have taken the decision in the last financial year to increase production.  We have been working hard through this summer to adjust the production infrastructure, we have recruited a fourth distiller and we will increase production in January by roughly a third.
"It's significant for us, although we accept we are at the smaller end of production in the whisky industry."
The increase will see production at the distillery rise from 52,792 gallons-a-year to 85,348 gallons.
During the most recent financial year G&M continued to perform well in the traditionally strong Scotch whisky markets of France and the US and also in Japan, Canada, Germany and China.
"There are some head winds across the world, but the fact that we are strong in a variety of markets allows us to trade one off against the other," Mr Ross said.
The company, he added, was "maintaining a watching brief" on the challenges and opportunities presented by Brexit.
He said:  "These are times of change and there are challenges politically and economically both in the UK and internationally.  But as a business we are confident that these challenges will also bring opportunities.
"We have been in this industry for more than 120 years and have survived times of turbulence and change before.  Scotch whisky is a popular and remarkably resilient product which we know from past experience people will continue to enjoy.
"We will adapt and develop new markets, demonstrating the flexibility which has kept us in business for more than a century."
Owned and directed by the third and fourth generations of the Urquhart family, G&M employs 150 people.
The company's financial results record, with sadness, the death in 2015 of David Urquhart, who retired as an executive director in 2012 after 40 years with G&M, but continued to serve as a non-executive director until last year.