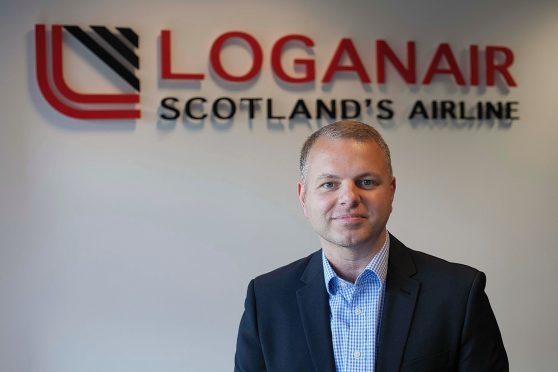 Plane company Loganair has admitted that it has not yet secured a deal over a future codeshare with Flybe that could have major implications for travel to many of Scotland's islands.
Earlier this week it emerged that Glasgow-based Loganair will stop flying under the Flybe brand from August 31 next year.
Flybe said its decision to end the franchise agreement followed "a failure to agree future operational standards and commercial arrangements."
Loganair said the move would allow the airline to "spread its wings again" and introduce "a bold new corporate identity".
But now it has emerged it has not yet reached a codeshare with Flybe, which allows passengers with a connecting flight – such as to and from London – to book and travel on the same guaranteed ticket.
Without a codeshare, passengers will have to book multiple flights with different airlines – and with no guarantee of another onward flight in the event of a missed connection due to breakdown etc.
Western Isles MSP Alasdair Allan has written to Loganair about "the implication for this change."
While a spokesman for Western Isles Council said: "The revised codeshare arrangements, and their relative advantages and disadvantages, will be discussed with Loganair when we meet next week."
The islands' MP Angus MacNeil said he was concerned.
"The codeshare is very important not just for tourism but also for business and people travelling to a major hub airport for overseas destinations. I hope the companies will come to a sensible agreement – it will be to both their advantages. I think it is incumbent on Flybe and Loganair to work together in the interests of passengers and to reach a responsible compromise."
Jonathan Hinkles, Loganair's Managing Director said: "A range of onward connections is a key part of the airline's offering and to sustain this, a codeshare proposal has been submitted to Flybe.
"Loganair also has established codeshare relationships with British Airways and Aer Lingus, offering the opportunity to book journeys between the Highlands and Islands and hundreds of worldwide destinations in one transaction. We are still keen to work closely with Flybe after the closure of the franchise arrangement for the benefit of both carriers' customers."
Loganair has announced a new schedule of flights to and from Stornoway and Benbecula for next year.
It includes the introduction of a larger aircraft on Stornoway to Glasgow flights and on weekend Benbecula to Glasgow flights.
Loganair is also to offer new "convenient" links from Stornoway to Manchester.
It has described the schedule as "a statement of intent" as it prepares to operate under its own brand.
Its new schedule includes using a 50-seater Saab 2000 aircraft on three of the four weekday services between Glasgow and Stornoway from March 27.
The larger aircraft is also to be operated on a regular basis on Saturday and Sunday flights between Benbecula and Glasgow.
The new-look Manchester flights will depart twice each weekday in either direction, with additional services on Sundays.
Loganair said the service would involve a short stop at Glasgow or Inverness en route to Manchester.