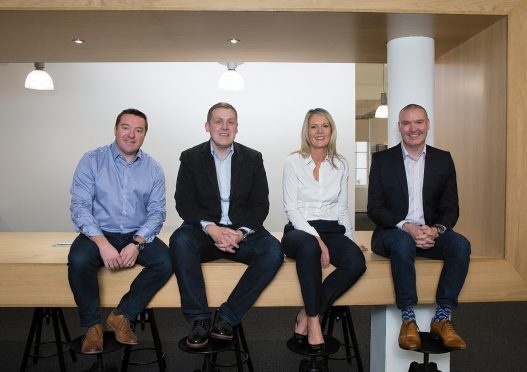 An IT firm in Inverurie has been snapped up in a deal thought to be worth seven figures.
First eBusiness Solutions was acquired by Neil Logan, who is leading the formation of a new digital technology services business, Incremental Group.
Mr Logan, who is a former director of Lockheed Martin's UK-based technology arm and chair of the Scottish Government's Data Lab, is being backed by private equity firm Maven Capital Partners as well as the Scottish Investment Bank.
Co-founders Mr Logan, Craig Donnelly and Stuart Kerr aim to create a digital services group that targets the oil and gas and financial services industry as well as the public sectors in Scotland and across the UK.
The Inverurie-based First eBusiness Solutions has been led by shareholder Bernard Brooker, 67, for 20 years. He has resigned as a director of the firm.
The founders of Incremental were previously directors of Amor Group which was acquired by aerospace and defence giant Lockheed Martin in a deal worth tens of millions of pounds in 2013. Amor, in its turn, had been hailed as a darling of the Scottish high-growth technology scene after the Renfrewshire-based group was bought out from French IT firm Sword Group in 2009. The deal had been backed by Growth Capital Partners and Scottish Enterprise.
Incremental, which is based in Glasgow, has ambitious plans to grow revenues beyond £20million organically and, where opportunities present themselves, by acquisition both in Scotland and across the UK. It expects to create 140 jobs in delivering its growth amitions.
Chief executive Mr Logan, said: "Digital technology continues to evolve at a rapid rate. We created Incremental Group to support organisations by working with them over the long term to deliver digital solutions that enable businesses to do more.
"We are delighted to complete our first acquisition. First eBusiness has a well-deserved reputation for technical excellence and solid basis for future growth. We welcome Maven and SIB onboard as our new investors. Both have considerable experience and expertise across the tech space with a number of successful investments under their belts and we look forward to their input in helping to grow our business."
Julie Glenny, investment director at Maven, added: "We have been very impressed by the incoming Incremental management team, who are extremely well-regarded within the sector and bring a wealth of experience and an excellent track record of success. The business is well placed to expand both organically and through acquisition, and we're delighted to be backing this team and its growth strategy."
Kerry Sharp, head of the Scottish Investment Bank, commented: "Scottish Enterprise has been working with the Incremental management team and supported them from the outset in this exciting new venture. In addition to the investment, Incremental has drawn support from our scaling account management service, financial readiness, and innovation teams. We look forward to continuing to work with the company and our partner Maven as the business develops and expands."