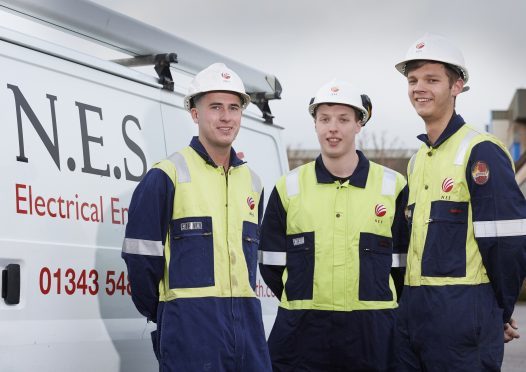 A Moray firm has stepped up its recruitment of local youngsters instead of trying to attract employees from outside the region.
North Electrical Services (NES) has hired another four apprentices to join its swelling compliment.
A new mentoring programme will shortly be launched by the firm so qualified electricians that have finished their apprenticeship can guide new recruits.
NES has already won national recognition in industry awards for its "grow your own" commitment to staff recruitment.
Craig Mone and Owen Laing are the latest to do their apprenticeships in Elgin while Lewis Bates and Jordan Macdonald will work in Inverness.
Meanwhile Elgin employee Scott Mathieson is now the first graduate of the programme after completing his four-year training to become a fully-qualified electrician.
Since launching the apprenticeship schemes NES now receives up to 60 applications every year with work experience sessions for pupils also proving popular.
Director Keith Paterson said: "Our ethos has been to build in-house and generate our own future workforce.
"We are one of the few companies to do it, but we believe it's the right thing to do and it means we have a stable and loyal workforce."
Mr Mathieson is now eager to pass on his knowledge to the next generation of trainees to help bolster the skilled workforce in Moray.
He said: "I've received a first class training over the past four years and now will help ensure those starting out on their careers will learn the correct skills in the correct way."