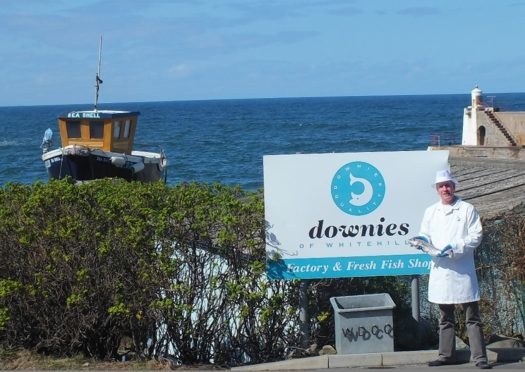 A historic fish processing business on the Banffshire coast has landed a £50,000 deal to produce a famous north-east soup for a chain of supermarkets in Scotland.
Downies of Whitehills will produce Cullen skink for Aldi's 72 Scottish outlets on an initial six months contract.
The creamy fish concoction, available in a 300g serving tub, is part of the German food retailer's "specially selected" winter range. But the Banffshire firm believes that the soup, featuring smoked haddock and potatoes, is popular all year around if sales at its own shop in Whitehills is anything to go by.
"In our shop sales aren't that different in winter and summer," said factory manager Alan Stewart.
Already the soup from Downies, which sources most of its ingredients locally, has won a Quality Food and Drink Gold award at a ceremony in London which recognises products sold by UK supermarkets.
Managing director of Downies of Whitehills, Alan Downie, said: "We're especially proud of this Cullen skink and all that goes into it.
"I personally source fresh haddock at the local markets in the north east before sending it to our smokehouse in Whitehills where we use traditional oak smoking techniques to create the best natural flavour.
"We use potatoes from Aberdeenshire in the soup and all butter, milk and cream is also Scottish. The end result is a great tasting Cullen skink."
He added: "Aldi have been great to work with, really supporting us to get this product onto shelves. It's already proved popular with shoppers and we hope to work with Aldi more in the coming months."
Downies of Whitehills, a family owned business which can trace its roots in the area back more than 120 years, decided to expand its haddock processing business to start producing the local speciality around seven or eight years ago.
The company produces its Cullen skink – named after the nearby town where it was first made – from a dedicated production line at its fish processing factory where the company also has a custom-built cold store for freesen.
Aldi is the latest retailer to sell the firm's famous skink in Scotland, after the company agreed deals in the last few years to make soup for Asda and Scotmid.
Graham Nicolson, group buying director for Aldi Scotland, said: "Working with the best Scottish suppliers is hugely important to us and the Cullen skink we've sourced from Downies is a perfect fit for us.
"It uses great quality Scottish ingredients and, after being on our shelves for just a few weeks, has already won a Gold Quality Food Award."