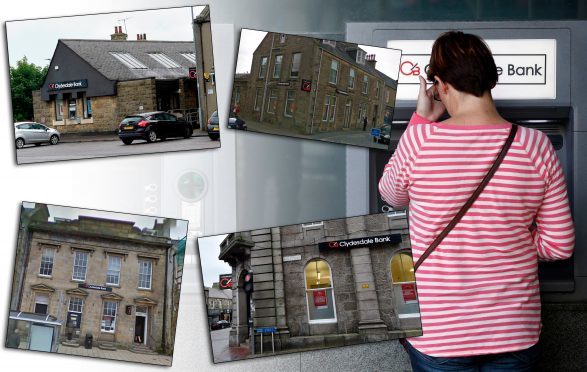 Clydesdale Bank is to axe 40 branches in Scotland – including nine in the north and north-east.
The closures will leave more than 200 jobs at risk and force some customers to drive up to 20 miles to the next nearest branch.
Branches affected include Aboyne, Banff, Fraserburgh, Mintlaw, Stonehaven, North Esplanade West in Aberdeen, Aberlour, Buckie and Thurso.
Clydesdale, which is part of the CYBG group, said the move was part of a plan "to create a truly integrated digital, mobile, telephone and branch service for its customers".
It also pledged to find roles for employees whose jobs were at risk "wherever possible".
Across the CYBG group, which incorporates both Clydesdale and Yorkshire banks, 79 branches will close, with the loss of more than 400 jobs.
Last night, the north-east closures were described as "devastating" for the region amid fears older customers will suffer most.
Banff councillor John Cox said it was a "sad day" for the district and that he was at a loss to explain the decision to shut the branch in the town.
He added: "No doubt there will be spin on it, but it was always full of people whenever I was in it.
"It's devastating news, really.
"I know people have perhaps moved on to electronic banking on their mobile phones, but a bank is still a major economic asset to a town centre.
"Losing it will be sad day for the town and district."
Businessman Ian Dyga, who runs a shop next to the branch in Fraserburgh and has a personal account there, described the closure as "troubling".
He added: "It's a real shame that they've had to do this, because it's such a well established bank in Fraserburgh."
Councillor for Aboyne, Upper Deeside and Donside, Geva Blackett, last night said the closure of the Aboyne branch was "bad news" for rural customers, who will be forced to travel to Banchory, more than 12 miles away.
The SNP councillor said: "This is in a village that is in the heart of Royal Deeside and therefore is a strong tourist destination. I think this is a very bad move by Clydesdale.
"Many older folk in the community won't have access to online banking.
"This is very concerning for older folk, the community and anyone else who doesn't have access to online banking."
Stonehaven Labour councillor Raymond Christie said locals who did not bank online would "have to go into Aberdeen if they want to stay with the Clydesdale".
He added: "It is unfortunate, but I think it is a sign of the times. For elderly people whose bank has been the Clydesdale all their lives, it will be difficult."
The nearest branch for Clydesdale's customers in Stonehaven will be the main branch in Aberdeen, which is nearly 15 miles away.
Gavin Opperman, customer banking director for Clydesdale, said: "While the decision to close any branch is never an easy one, it is important that we, in line with other banks operating in the UK market, continue to respond to changes in the way customers want to bank with us."
The closures were announced after the bank revealed its first full-year profits for five years, reporting pre-tax profits of £77million for the year ending September 30, up from a loss of £285million a year earlier.
Unite the union said the decision to close a third of the bank's branch network would be "deeply devastating" for employees.
National officer Rob MacGregor said: "Staff across the Clydesdale and Yorkshire Bank will be devastated to learn that 79 branches will close and consequently over 400 colleagues will lose their jobs.
"This cost-cutting plan leaves customers with less choice for local banking.
"The union has called on the bank to give a commitment to mitigate compulsory redundancies where possible and that they will reconsider closing any bank branches that are the last bank in a town."
The north-east branches are all due to close in May.