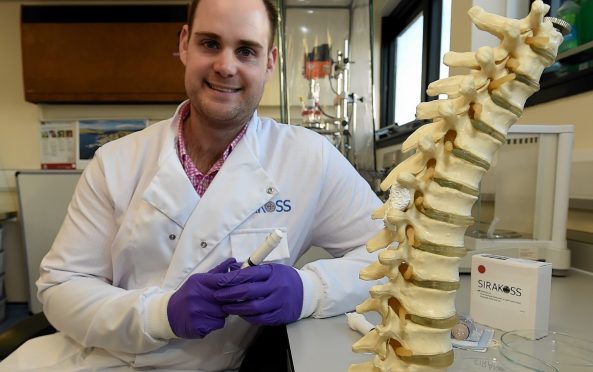 A medical device company that spun out of the University of Aberdeen is on track to raise millions in a second round of funding from investors.
Sirakoss, which has developed synthetic bone graft technology, is seeking to raise between £3.5million to £5million this year to take its products through regulatory approvals in its key US and European markets. These regions along with Japan make up around 80% of the growing $3billion (£2.4billion) global orthopaedic market the firm targets with its products.
The firm, which spun out of the university in 2011, raised $4.8million (£3.8million) from a syndicate of investors led by Epidarex Capital, which included the Scottish Investment Bank, in 2014.
The company's name is a cognate of "si" for silicon – a key components of its technology, "rak" – which comes from the Greek for spine and "os" for bone.
Brian Butchart, chief executive of Sirakoss, said the company was now headquartered in Edinburgh but that its research & development (R&D) heart was placed firmly in Aberdeen.
He said: "There's a team of four in Aberdeen. The team is quite small overall, we are nine in total.
"We continue to see Aberdeen will be the focus of our R&D activities."
One of the founders of the firm is Iain Gibson professor of biomaterials and regenerative medicine at University of Aberdeen and research and development (R&D) director of Sirakoss. Jordan Conway, the company's R&D manager, also works in Aberdeen and has been with the firm since its early proof-of-concept days.
Mr Butchart, who joined the firm in 2009 to oversee the company's commercial growth, said its next fundraising effort was "challenging" but demographics were working in the company's favour.
"Raising funding is always a challenge in the UK for medical devices.
"But where pharmaceuticals are tens of millions to get through to this stage, for devices it is less than that. But it is still significant and that is why we will continue to raise investment funding.
"We will look for investment funding for second product development ranges in the next six months."
He added: "People are getting to an age and they have a degenerative disease in their spine – that is only going to increase with an aging population.
"People are no longer happy to sit by the fire and say that is all they can do now. They want to be out golfing, fishing, sailing.
"There is a positive social impact if people can stay active – and an economic impact.
"We are seeing a growth in these procedures worldwide."