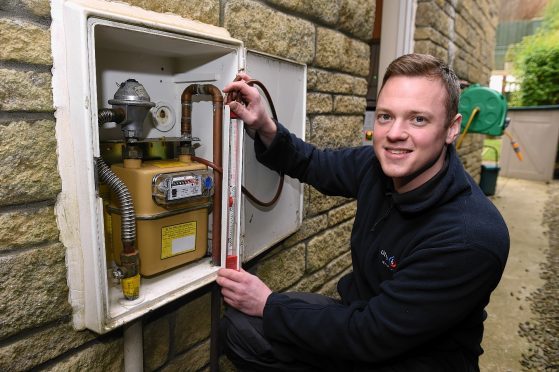 Each week, we ask small businesses key questions.
Here we speak to Paul Ladwiniec, owner of City & Shire Heating Specialists, based at Balmedie, near Aberdeen
How and why did you start in business?
I always had a desire to run my own business and, after a short spell in the oil and gas industry, eventually went for it in summer 2015. Offering my customers a first-class level of service within the heating and gas services industry is something I have a real passion for.
How did you get to where you are today?
I started working as a breakdown engineer with Scottish Gas in 2004. This experience gave me the skills and knowledge required to work to the highest of standards.
Starting from scratch it has taken a lot of hard work to build a trustworthy and reliable reputation in an around Aberdeen. I now have a solid customer base that continues to grow with each passing week.
Who has helped you?
My wife, Janine, of course. She has been running her own podiatry business and so had plenty advice for my own venture.
Designer Stefan Morrison took care of the brand and website design and did a fantastic job. Also, I'm a member of the Federation of Small Businesses – there are huge benefits in joining this organisation. I would definitely recommend it for any small businesses.
What has been your biggest mistake?
In hindsight, I should have started the business a lot sooner than I did.
What is your greatest achievement?
I have renovated a number of properties and needed to learn a lot of skills along the way. It was a lot of hard work but very satisfying seeing the end results. I also graduated at 19, with a bachelor of engineering from Robert Gordon University in 2003.
If you were in power in government, what would you change?
I would scrap the TV licence, lower stamp duty (Scottish land and buildings transaction tax) and invest more money in sports facilities in schools and communities.
What do you still hope to achieve?
I would like to live abroad one day, somewhere with a sunnier climate. California would be my preferred place to live as there is so much to see and it's a beautiful part of the world.
What do you do to relax?
I love a good blast on the mountain bike on the countryside trails around Ballater on my days off, which are few and far between.
What are you currently reading, listening to or glued to on the TV?
I just finished the second season of Peaky Blinders. It was brilliant.
What do you waste your money on?
Following Aberdeen Football Club home and away – support your local team.
How would your friends describe you?
Hard-working, dependable, honest and someone who should take it easy on the booze on a night out.
What would your enemies say about you?
Life is too short to make enemies.
What do you drive and dream of driving?
I currently drive a Nissan NV200 for work. A Ferrari would be my dream car.