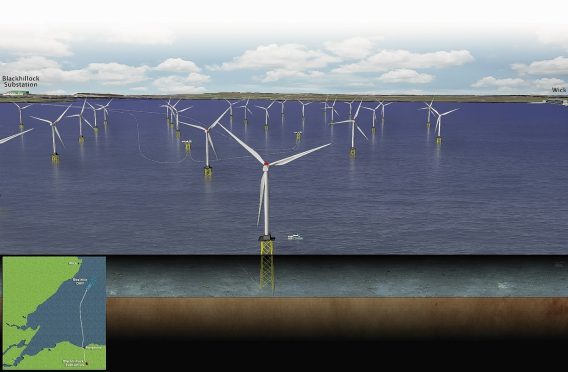 Long-abandoned buildings at Wick harbour are to be rebuilt to serve a predicted business boom during construction of a massive offshore windfarm.
Two buildings in the town's Lower Pultneytown are to be turned into an operations and maintenance base for the construction of the Beatrice development in the Moray Firth.
Beatrice Offshore Windfarm Ltd (Bowl) already have planning permission to redevelop the listed buildings.
They have now applied for further permission to carry out "substantial demolition" needed to bring the buildings back into use.
Specifically one of the large walls of the "Grey Coast Building" facing onto Saltoun Street requires demolished and rebuilt in order to bring the building back into use.
It was deemed to be "structurally unstable" by engineers – with the wall showing a "significant lean" back into the building and substantial damage from water ingress among other faults.
The company has decided that it would be cheaper and more time-efficient to demolish the wall and start again rather than trying to repair it.
The development is part of a £10million investment in Wick as part of preparations for the development of Beatrice.
A spokeswoman for SSE, the largest shareholder in Bowl, said: "Bowl will begin work renovating the two harbour front buildings in Lower Pulteneytown this month as part of their £10m investment in the Wick Harbour area.
"The buildings will be sympathetically restored and, once completed in 2018, will be returned to maritime use as the Beatrice Operations and Maintenance base for the 25 year lifespan of the wind farm.
"The initial work will include some down-taking to remove elements of the building that need to be replaced due to their current conditions."
The operations base will eventually house a new team of around 90 long-term employees, ranging from offshore technicians to office administrators, needed to support the windfarm.
The historic buildings date back to 1807 and were developed by renowned engineer Thomas Telford.
Beatrice will eventually be made up of 84 turbines about eight miles off the coast of Caithness.
The project is ultimately expected to cost £2.6billion – making it one of the largest private investments ever made in Scottish infrastructure.
Bowl is a joint venture between SSE, Copenhagen Infrastructure Partners and Red Rock Power.