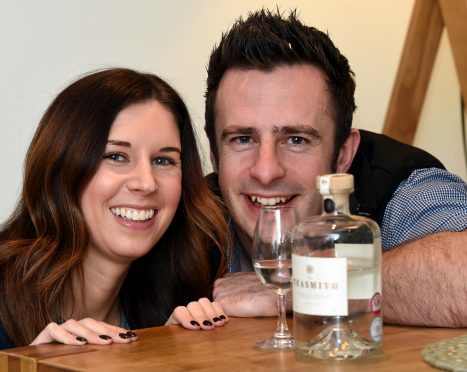 When Nick and Emma Smalley met on the dance floor 17 years ago they could never have imagined they would go on to become parents… or the founders of Scotland's first tea distilled gin.
The carefree days of Loughborough University are now long behind the pair, who juggle running a business with raising their two-year-old son, Finlay, in Udny Green.
Having started dating during their very first week at university, Nick and Emma got married two years ago and have been on the go ever since.
Finlay was just six weeks old when the concept for The Teasmith Gin was born, and the couple have high hopes for the future.
It's fair to say that gin has experienced somewhat of a renaissance in recent years and competition to produce the best tipple is stiff.
It's no longer a question of a generous dash with tonic water and perhaps a twist of lemon – 33-year-old Nick believes true gin lovers favour the drink not just for the taste but for the experience.
With the Smalley's first batch of gin sold out within weeks, it all seems somewhat of a fairytale considering gin making was once just a family hobby.
The reality has been anything but and Nick and Emma have faced plenty of obstacles before their creation finally made it to a simple glass bottle with an engraved stopper.
The Teasmith Gin is distilled in Strathearn distillery and was officially launched at the start of December, but the idea was originally floated in the spring of 2015.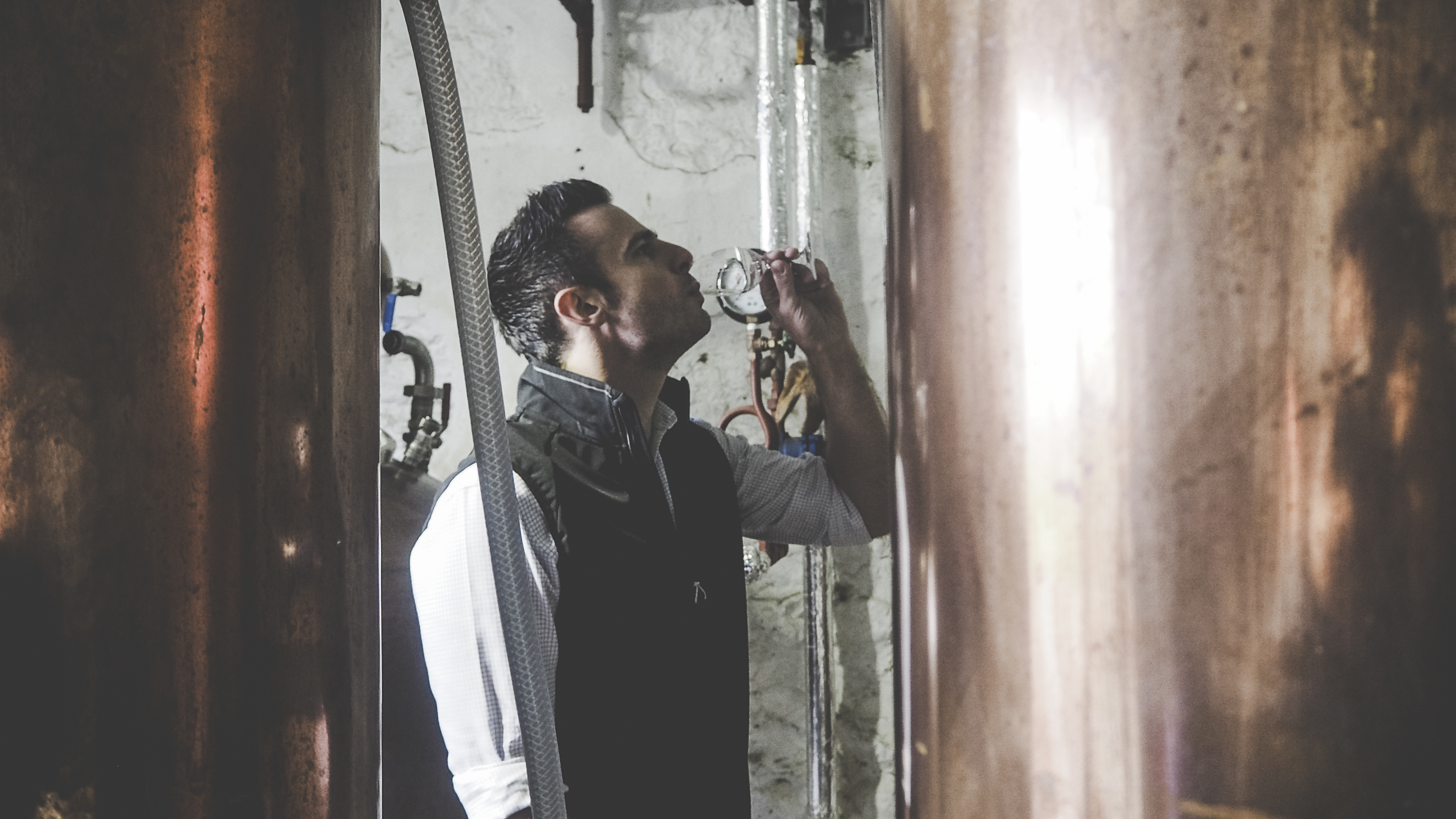 "We had a batch of 570 bottles, we sold out which was amazing and now we're very focused on taking the business further," said Nick, who grew up in Aberdeen.
"We have to keep pinching ourselves because this all started off when we were thinking of business ideas round the kitchen table.
"Both myself and Emma have always been business minded. Emma sold soaps and I set up my own power clean business when I first came home to Aberdeen from university.
"Then I started flying helicopters in the oil industry, Finlay had just been born when we decided to think outside the box.
"It was partly because we were concerned about the oil industry and the threat of redundancy, but we also really enjoy being creative.
"We've made sloe gin at Christmas for years, we even gave it as favours at our wedding but it was only when we were trying to put pen to paper that my dad suggested we turn it into a business.
"This time 18 months ago there weren't that many gin companies around in Aberdeen but we knew even then that our product needed to be different and required lots of research.
"We also wanted to make it local and take inspiration from the land around us – that's when we hit on the idea of tea."
The Teasmith Gin is so aptly named thanks to James Taylor, an Aberdonian who founded a tea plantation more than 100 years ago.
"I was looking into botanicals and discovered that some of the world's most notable tea-clippers were built in Aberdeen harbour, and a handful played an important role in opening up important tea trade routes with the Far East," said Nick.
"James Taylor was known as the father of Ceylon tea. He came from Auchenblae and founded the first tea plantation in Sri Lanka in 1867.
"He transformed the island into one of the finest tea-growing regions in the world, and that really inspired us to use tea in our gin."
Nick and Emma met with tea consultant Beverley-Claire Wainwright to source tea, and their key ingredient comes from Amba Estate.
"We wanted something different and our tea is picked by hand, there's no machinery involved," said Nick.
"It's a rare tea and is produced using the very same method James Taylor used to get his first batch and there's something rather special about that."
The tea is distilled by itself to capture the flavours before it is blended with a classic gin recipe which features juniper, coriander, and citrus peels.
The journey has been far from easy, however, and there have been moments when the couple have hesitated on their fledgling business idea.
"There were so many moments when we feared this wouldn't work and we had bitten off more than we could chew," said Nick.
"We both still have day jobs, we come home and after Finlay has been put to bed we worked on the business.
"It has been incredibly full-on and every single day there are doubts of some kind, we've worked virtually every hour of spare time we have.
"There's also lots of challenges when you're a couple working together but thankfully we complement each other really well.
"We never expected our first batch to sell as well as it did and we're pretty excited for the future now.
"We're lucky in that there has been a modern gin craze but the ultimate challenge will be keeping people loyal to our brand.
"Gin lovers now want to have our bottle on their shelf and that's an incredible feeling."
The couple hope to export to Spain, Germany, and even China, and also hope to collaborate with other gin companies.
They have been supported by Business Gateway in Aberdeen alongside design studio FortyTwo Studio, who helped create simple but effective branding.
Despite living and breathing all things gin related, it still remains a favourite drink at home.
"At the heart of our business is the fact we still both love gin, everyone always says you shouldn't drink your own gin to try and keep your palate fresh," said Nick.
"We haven't found that though, we still love sitting down at home with what we've produced and I think that's actually really important.
"If you love what you do, it shows."
To purchase a bottle of The Teasmith Gin visit www.teasmithgin.com or buy at selected local retailers, including Inverurie Whisky Shop.