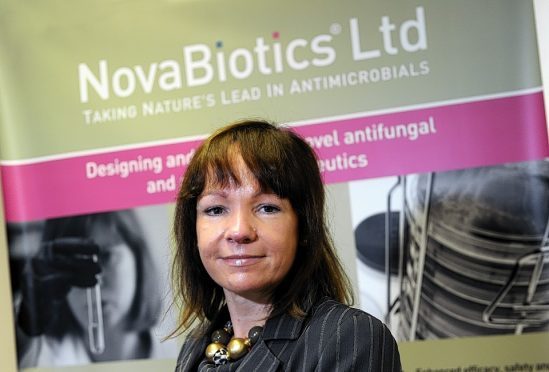 A leading light of the north-east's fledgling biotech sector has raised £3million from investors as it considers a trade sale inspired by President Donald Trump's proposed changes to the US healthcare market.
Aberdeen-based Novabiotics has raised the cash from its main backer Woodford Investment Management to boost the development of two of its flagship treatments, one for nail fungus and another for cystic fibrosis.
It is the second investment Woodford has made in the firm, after taking a £5million stake in 2015, with the new cash injection representing a "significant uplift" in the company's valuation, the company said.
The investment will be used to fund further trials in the US of its potential "blockbuster" – a brush-on anti-fungal treatment called Novexatin, which is subject to an exclusive licence and co-development agreement with US healthcare firm, Taro Pharmaceuticals.
Its other lead product, Lynovex Oral, is partnered with a French pharmaceutical company that specialises in the development of so-called "orphan" drugs aimed at treating rare diseases like cystic fibrosis.
The development of both drugs will trigger further payments to NovaBiotics from its partners, and its likely to put the Aberdeen firm "on the radar" in what chief financial officer Paul Foulger expects will be a lively pharmaceutical merger and acquisition (M&A) market fueled by Trump policy.
Mr Foulger said he hasn't ruled out a potential flotation of NovaBiotics, which was founded by chief executive Dr Deborah O'Neill in 2004, on the Alternative Investment Market (AIM), but he said it was less likely than a sale.
He said: "I personally think we would get taken out in a trade sale before we contemplated an IPO.
"Once we have these two technology platforms, either one of our partners or another large US pharma would want to get into this space."
Although the company is not specifically seeking a sale of NovaBiotics, Mr Foulger said President Trump is putting pressure on US pharmaceuticals companies to reduce drug prices as well as encouraging them to relocate operations based in lower-tax countries back to the US.
"If he can incentivise those companies to bring their money back on shore it can add fuel to M&A and cash availability particularly for large US pharmas," said Mr Foulger.
"We are not actively looking for an exit but over the next 12-18 months we are going to see a lot more activity and approaches from large companies to either partner with us or to potentially make an offer for us."
He admitted the firm's latest fundraising achieved less than the £6million it had initially envisaged. But the company now expects the current investment to raise the value of the company further.
"Because we have got some data read outs over the next 12-18 months that is going to substantially change the valuation again," said Mr Foulger.
"So we decided to raise a lesser amount and raise more money in 12-18months time on a higher valuation on the back of further data."