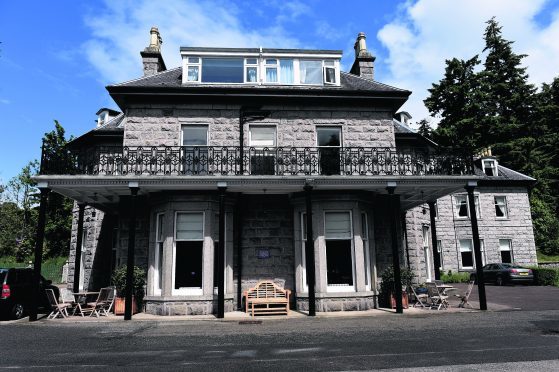 A four-star country house hotel in Banchory has come under the control of new management who have hopes of turning its fortunes around.
Former Scottish Chef of the Year David Littlewood and business partner Nigel Hake have taken on a long-term lease and the management of the Tor Na Coille Hotel, with an option to buy the property from its Canada-based owner in future.
Mr Littlewood and Mr Hake – who are brothers-in-law – currently run the Kildrummy Inn in Alford and were were highly commended in the Scottish Independent Hoteliers of the Year awards in 2015.
The pair, along with their wives, plan to run it as a family business. They also aim to turn around the hotel's operations from one reliant supporting the oil and gas industry to one focused on a resurgent leisure market.
Mr Littlewood said: "Nigel and I have proven that our combination of culinary skills, industry experience and business acumen works in taking a rural inn and making it a foodie destination with an excellent reputation for quality. Although there are fewer rooms at The Kildrummy Inn, our occupancy levels are high, and we have little reliance on corporate business. We believe that we have developed the blue print for how we will operate the Tor Na Coille, whilst ensuring the continued success of the Kildrummy Inn.
"Like many hotels in the north east, there was perhaps an over reliance on business tourism and as the down turn bit harder and that sector of business dwindled, it was harder to guarantee the future sustainability of the hotel. We have the experience of attracting the leisure market and we aim to focus on this segment."
Mr Littlewood, who has been a chef for 17 years and worked previously at both Milton of Crathes restaurant and Raemoir House Hotel in Banchory is a Masterchef of Great Britain and has won several industry accolades including Scottish Chef of the year in 2013/14.
A 60-seat restaurant is at the heart of the new managers' plans. The pair plan to reintroduce weekday lunches for residents and non-residents, reinstating the original dining room for "casual fine-dining", as well as offering a bar/lounge menu to provide simpler more informal dining options. They will introduce new themed afternoon tea options as well as building on the hotel's reputation for hosting memorable weddings and events in the hotel's newly refurbished function suite.
"The quality of the rooms and the public areas of the hotel is outstanding, having been refurbished relatively recently and we aim to market the hotel for leisure tourists as well as to sportsmen and fishermen. We own a beat on the river Don and we can create bespoke fishing packages. Current owner Charles Anderson, who lives in Canada, has been generous in his time and advice as we take on the hotel and we're grateful to him for this guidance," Mr Littlewood said.
"We've shown at Kildrummy that high quality food and accommodation appeals to both tourists and the local community and although there will be those who think we're foolish to take on a hotel here when the hospitality industry in the north east is going through an unprecedented dip in trade, we're confident that, with the support of the local community, we can make the Tor Na Coille a must visit Scottish hotel and restaurant."