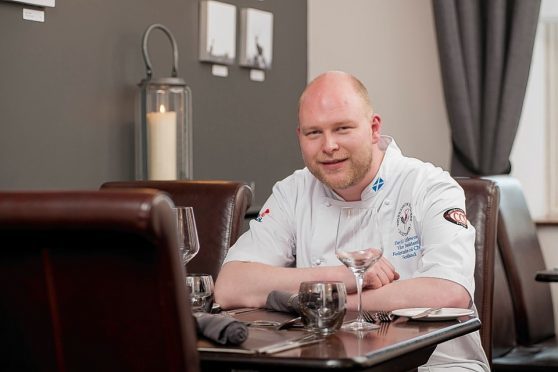 Award-winning north-east hotelier David Littlewood has become the youngest ever president of Scotland's national body for chefs.
Mr Littlewood, 34, and his brother-in-law, Nigel Hake, run both the Tor Na Coille Hotel in Banchory and Kildrummy Inn by Alford.
Tiles racked up during Mr Littlewood's distinguished culinary career to date include the Scottish chef of the year, Grampian chef and young chef of the year and a prestigious Scottish Hotel Awards Medaille d'Or gong.
He has also held the accolade of Grampian restaurant of the year, was a member of the Scottish Culinary Team and is a Masterchef of Great Britain.
In 2014, Kildrummy Inn won a major "rising star" title and narrowly missed out on becoming The Observer Food Monthly UK restaurant of the year.
Its owners took over the four-star Tor Na Coille country house hotel just last month and have begun to develop its restaurant as a "must visit" dining destination.
Elected president of the Federation of Chefs Scotland (FCS) at its annual general meeting in Glasgow, Mr Littlewood has taken over the top role from St Andrews Links Trust executive chef Ian McDonald.
"I was very lucky to be mentored by great chefs in my early career," Mr Littlewood said yesterday.
He added: "They inspired me and challenged me, and through this showed me the immense value in supporting the next generation of great Scottish chefs.
"I feel that it's incumbent upon all of us who have learned from other professionals to continue this tradition.
"FCS is an important organisation in driving up standards, and our current members play an influential role in enthusing young people about Scottish food and to work in our industry."
Mr MacDonald said: "David is the youngest president of the Federation of Chefs Scotland.
"He's achieved his success with his passion and drive, not only for his own work but for the development of youngsters in our industry through his supportive mentoring.
"His focus on attracting young talent and developing and challenging them to achieve is the way forward for the federation.
"I know that David will make the Federation stronger in all different areas of our work and I wish him well during his tenure."
FCS is run exclusively by Scottish chefs and exists to promote excellence in the industry across Scotland through supporting and developing young cooks through their training.
It also organises two of this country's biggest annual cooking events – the Scottish Chef of the Year competition and the Scottish Culinary Championships.