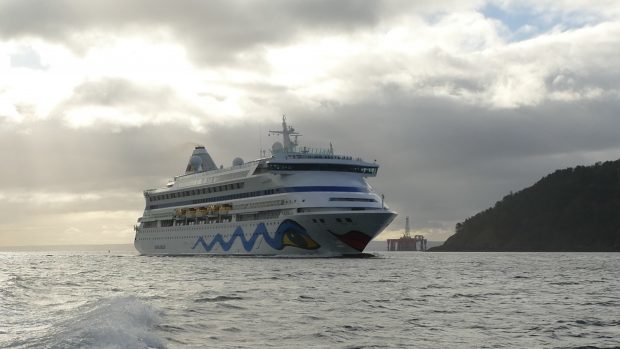 Cruise ships will tie up at a new £16.5million jetty at Lerwick Harbour, in Shetland, for the first time this summer.
The Holmsgarth North facility will be used to host a liner in June, during the first of what Lerwick Port Authority (LPA) expects to be two consecutive record breaking cruise seasons.
Completed late last year, the L-shaped jetty is the LPA's biggest single investment to date and is also used by fishing and oil industry vessels.  It will initially take liners of up to around 755ft in length, starting with the visit of the Viking Star.
A new portable "meet-and-greet station" to welcome passengers arriving at the jetty has been commissioned by the port authority.
With the latest cruise liner season getting underway tomorrow, the LPA expects the number of passengers visiting Shetland over the next five months to be up 22% on last year at a record 62,000.
Further records are expected to be set in 2018, with 90 ships, carrying an estimated 96,000 people, already booked to visit.
LPA senior commercial executive Victor Sandison said:  "Holmsgarth North is significant addition to our capacity to welcome cruise ships alongside at a time when the port is attracting more passengers.
"Continuing growth in the international cruise industry, our record bookings and our positive approach to industry requirements, including expanded infrastructure, all augur well for the port and the Shetland tourism sector in the future."
New records are also expected to be set at Scotland's busiest cruise liner harbour, Invergordon, which yesterday marked the start of the new season, with the arrival of the AIDAvita, carrying around 1,400 people.
An estimated 142,000 passengers will visit the Easter Ross port over the next eight months aboard 91 cruise ships.
Captain Iain Dunderdale, cruise manager at the Port of Cromarty Firth (PCF), said: "This is shaping up to be the best year yet for cruising at the Port of Cromarty Firth.
"We're looking forward to welcoming 45% more passengers than last year, which will mean the highest number on record and a value to the highland economy of around £14million. Today's visit of the AIDAvita was a fantastic start to this."
The AIDAvita, will call at Lerwick tomorrow.