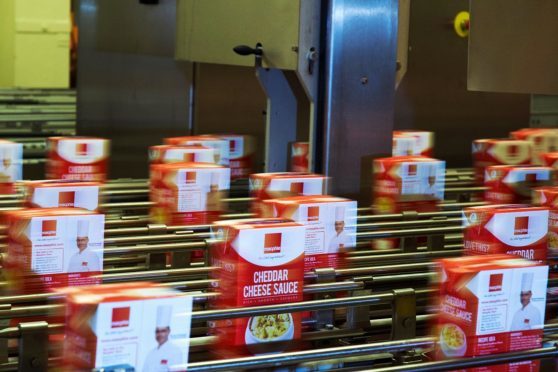 Growing international success has seen a leading north-east-based food ingredient firm trim its trading name to prevent confusion among overseas customers.
Newly-named Macphie Ltd said dropping "of Glenbervie"from its brand also reflected the changing nature of the 89-year-old company's business.
The name change was announced yesterday as  managing director Andy Underwood forecast "robust" UK and international sales in the year ahead, following a strong performance in 2015/16.
Family-owned Macphie, based on the 2,000-acre Glenbervie Estate, near Stonehaven, saw annual operating profits surge by almost £1million to  £4.6million last year.  Among factors contributing to its success, the company highlighted increased sales in the Middle East.
Mr Underwood said:  "We continue to predict a bright future for the business after last year's strong set of results which saw a sales jump of 7% to almost £48m.
"Our vision of profitable growth through investment and a strong innovation agenda, both in the UK and international markets, is paying dividends with robust sales forecast for the year ahead."
A two-year review of its structure had led the company to identify food and land as its "two clear business activities," Mr Underwood added.
He continued:  "While all our land activities (farm, estate and wind) are located in Glenbervie in the north-east, our added value food ingredients business currently operates from two sites – Glenbervie and Tannochside near Glasgow – so our trading name will reflect this by removing the location 'of Glenbervie'.
"We also feel that this change better reflects our 'red box' Macphie branding which has been used by the business since 2001.
"The international side of our business is delivering additional growth opportunities, so simplifying our trading name will also help ease any potential confusion for suppliers and customers. It's great to see both sides of the business doing so well and long may that continue."
Macphie makes ingredients used by bakers, pubs, restaurants, hotels ready-made food firms and caterers.  Headed by chairman and chief executive Alastair Macphie, it employs more than 270 people across its two sites.
The business was founded in 1928 as a retail bakery by Mr Macphie's great uncle Alister Macphie.
The firm said the land side of the business was "continuing to thrive."