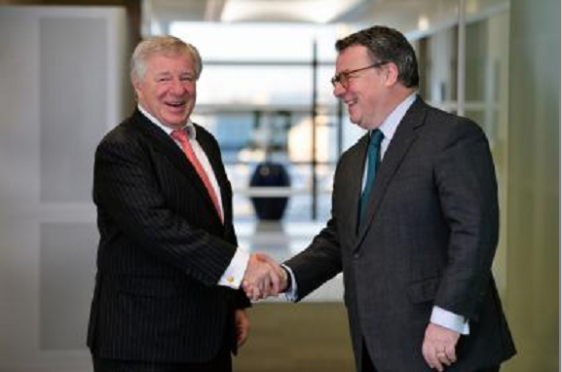 The £11billion mega-merger of Aberdeen Asset Management and Standard Life will see 800 jobs cut across the firms' global workforce, documents published last night revealed.
The name of the newly forged asset management group following the all-share merger was also revealed as Standard Life Aberdeen.
In a prospectus issued ahead of a shareholder meeting next month, Standard Life revealed that 800 roles from amongst the combined group's 9,000-strong global workforce would be lost over three years.
The group said the jobs would be shed through "natural turnover" and recruitment management.
The group also revealed that it would be managed by a sizeable 16-strong board, split equally between the two firms.
The documents also confirmed that Aberdeen's chief executive Martin Gilbert and Standard's Keith Skeoch would become join chiefs of the new business, with Mr Skeoch overseeing "day-to-day running" of the business and Mr Gilbert taking on "external matters" such as clients, business development and marketing.
Aberdeen's finance director Bill Rattray will join the merged board as an executive director, while chairman Simon Troughton will act as deputy chairman to Standard Life's Gerry Grimstone, who will retain this position in the merged group.
Mr Grimstone said: "The directors on both boards have extensive global experience and have provided effective stewardship to grow each organisation.
"We have been able to create a diverse board which will have a strong blend of appropriate skills and knowledge.
"Together we will effectively oversee the successful delivery of the merger process and the future growth of the combined group."
The a series of documents were released after the all-share deal won approval from the UK Listing Authority.
Abderdeen's senior independent director Julie Chakraverty will join as a non-executive director, along with non-executive directors Gerhard Fusenig, Richard Mully, Jutta af Rosenborg and Akira Suzuki who will retain their positions.
Standard Life's chief investment officer Rod Paris will join the merged board as an executive director but its chief financial officer Luke Savage, global client director Colin Clark and chief executive of pensions & savings Barry O'Dwyer will resign from the board as executive directors, while non-executives Pierre Danon and Noel Harweth will also resign.