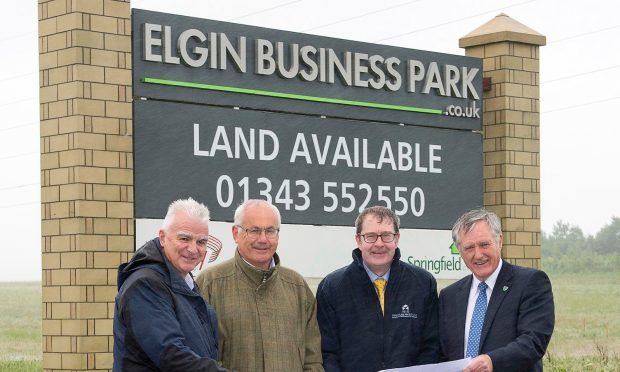 A major business park development on the outskirts of Moray's main town, first proposed 15 years ago, will finally go ahead after an injection of nearly £2million of public funding.
Developers confirmed they planned to start work "within months" at the site on the east side of Elgin, where it is hoped up to 4,000 jobs could be created in the future.
A variety of uses, including industrial, office, warehousing, hospitality and retail premises, is anticipated for the park, with the first businesses expected to move in next year.
Yesterday's announcement came after Elgin Business Park Limited (EBPL), which is controlled by locally-based Springfield Properties, received £1.9million backing from Highlands and Islands Enterprise.
The funding was hailed as the "trigger to get this project going" by one Moray councillor.
Earlier plans for the development were abandoned by Moray Council because of a shortage of cash. But they were revived last year as part of the council's preparations for a "City Deal" funding bid for the area.
Although a large Elgin Business Park sign has been a landmark for motorists on the A96 for around a decade, the fields at the 125-acre site at Barmuckity Farm have remained empty.
HIE's funding will go towards the £6.8million cost of creating infrastructure for the first 66-acre phase of the development.
John Cowe, chair of Moray Council's economic development and infrastructure committee, and of the Moray Economic Partnership, said: "This is the trigger we have been hoping for to get this project going, and I'm delighted HIE have made it happen.
"As members of the Moray Economic Partnership, we are all pushing in a number of directions to improve the local economy, but Barmuckity is a big part of our agenda.
"With the adjacent £86million Elgin Flood Alleviation scheme now complete and thoroughly tested, businesses can have renewed confidence in locating their operations within this new development."
Springfield chairman Sandy Adam said EBPL was already in "advanced discussions" with a number of Moray companies whose growth was restricted by a lack of available land.
He added: "This will allow them to plan for the future and can only be seen as a benefit for the region in terms of economic and employment growth.
"We anticipate being on site in the next few months with the first occupiers on site in 2018."
David Oxley, HIE's acting director of business and sector development, said the park would allow local businesses to grow and attract inward investment to the area.
HIE said development of the full site would support an estimated 32 full-time-equivalent construction jobs and take around seven years to complete.