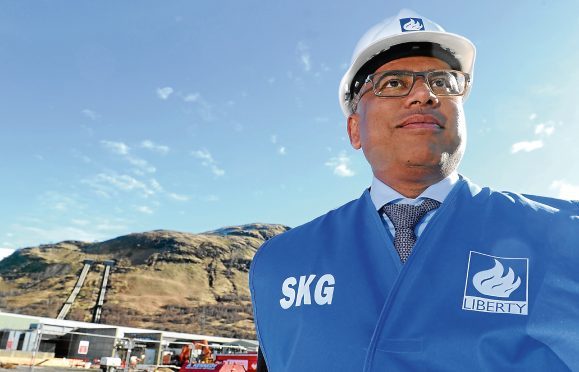 Hundreds of new jobs could be created through plans to redevelop a huge area of land beside Fort William's aluminum smelter.
The entrepreneur who saved the closure-threatened plant is planning to "fully realise" the potential of the "sleeping giant" 114,000-acre estate that came with the deal.
Sanjeev Gupta's GFG Alliance wants to create "multiple" economic redevelopment projects, including in renewable-energy, outdoor sports, tourist facilites, forestry and new agricultural activity.
Robert Muir, Highlands and Islands Enterprise area manager for Lochaber, Skye and Wester Ross, said: "There is potential for hundreds of new jobs as a result of the company's activities here.
"We are working with them and our partners to ensure co-ordination of support and engagement as plans take shape."
The plans emerged as the international energy, metals, engineering and financial services firm launched a property arm, Jahama. A division of the new business, Jahama Highland Estates, was described as a "pivitol project".
Liberty House and Simec, both part of the GFG Alliance run by Mr Gupta and his family, bought the smelter from Rio Tinto for £330million last November. The acquisition included hyrdo power plants at Fort William and Kinlocheven as well as the estate, which includes the foothills of Ben Nevis.
Jahama is the UK's fifth largest landowner and due to complete the purchase of a major property portfolio in Australia, adding to assets in United Arab Emirates, India and Thailand.
Mr Gupta said: "With the rapidly growing scale of our global property interests, it became imperative that we launch a dedicated property pillar within the business. This will make responsible stewardship and development of our estates and property holdings, for the betterment of all stakeholders, a key priority."
Comment, Page 25