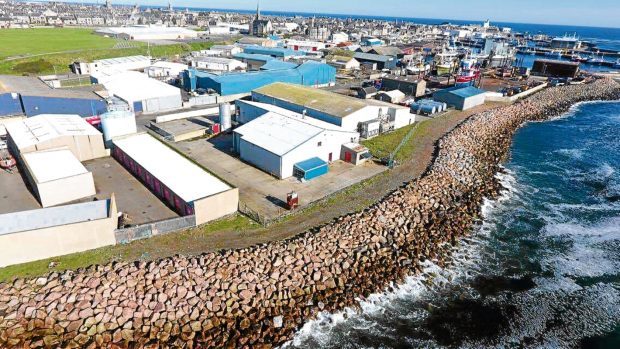 A new lease of life and up to 50 jobs are planned for a mothballed seafood factory in Fraserburgh following a £1million-plus investment by its new owners.
Derek Hutchins, previously managing director at Aberdeen-based Nolan Seafoods, teamed up with industry veteran Michael Leiper – another former Nolan director – and a Dutch investor to buy the old Kilron plant in Watermill Road.
They are the trio behind fledgling company Seafood Sourcing, which was formed last year to supply fish from the boat to overseas markets in the fastest possible time.
Seafood Sourcing buys fish from all the main Scottish ports, including Peterhead, Fraserburgh, Mallaig, Lochinver, Kinlochbervie and Lerwick and currently sends most of it to France for processing.
It is already hand filleting at premises in Harbour Road Fraserburgh.
Once ready, the fish is quickly transported in modern refrigerated lorries to Boulogne Sur Mer in northern France, from where it is delivered to customers in mainland Europe.
The company's new factory, which will also provide much-needed equipment storage space, is currently undergoing renovation and expected to be up and running within three months.
Mr Hutchins said "well over £1million" had been spent on acquiring and revamping the building.
He added: "We're employing four people at the moment but intend to increase that to 20 within year one, going up to about 50 in year two."
The firm is already buying "every species of fish on the market" and plans to keep doing so but it also wants to build up its mackerel processing business, he said.
Plans unveiled by the Scottish Government this week aim to increase fish landings, particularly high-value mackerel, into this country's ports.
Mr Hutchins welcomed the move, saying it would help to create even more jobs and boost the north-east economy.
Seafood Sourcing has self-funded its investment to date but hopes to secure £750,000 from the EU's European Maritime and Fisheries Fund to help move it on to the next stage.
The value of Scottish fish landings reached a record high of £563million last year, according to Scottish Government figures published in May.
A 29% jump in value from the year before was mainly driven by a 41% boost in the value of landings for pelagic fish, such as herring and mackerel, to £226million.
Industry body Seafish plans to help the wider seafood sector take advantage of a currently buoyant catch sector by forming a Seafish Scottish Advisory Committee (SSAC) to build on the work it carries out in Scotland.
Seafish chief executive Marcus Coleman said: "We're excited to be formalising the close working relationship between our staff and the Scottish industry that has existed for many years.
"Positioning Seafish at the heart of the industry it serves has long since been an integral element of our corporate plan, but we know we can't drive improvement alone. We're most powerful when working in partnership.'
It is expected that SSAC members will work closely with the team at Seafood Scotland, Seafish's delivery partner north of the border, and become a key part of the Seafish decision-making process.
Mr Coleman added: "The establishment of the SSAC marks the growing importance of tailored, local delivery for Seafish.
"One size doesn't fit all and this collaborative approach will be a key element of our ongoing strategy for 2018-21."