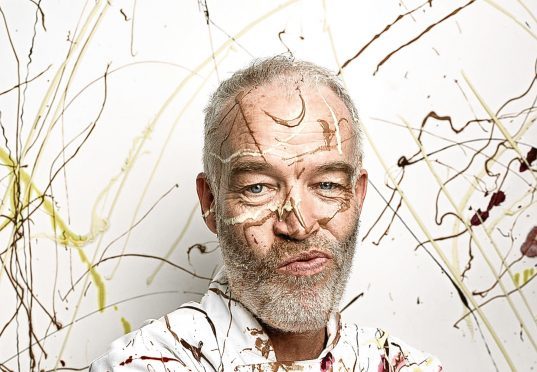 A former Army chef who turned his passion for designing and creating high quality hand-made chocolates into a thriving Shetland-based business will today open his first store in Orkney.
The addition to Dave Williams' Mirrie Dancers company, 14 months after its launch in Lerwick, has seen him double production and take on more staff.
And Mr Williams, who was responsible for feeding up to 5,000 soldiers-a-day and cooked for members of the Royal Family, including the late Queen Mother, during his 26-year military career, has more expansion in his sights.
Having served around the world and reached the rank of warrant officer second class, he continued in the food industry after leaving the Army and worked in Canada before moving to Shetland. He also honed his skills as a chocolatier at the Callebaut Academy, in Oxfordshire.
His decision to launch Mirrie Dancers, named after the Shetland term for the Northern Lights, came after a seaweed chocolate Mr Williams created to accompany a locally-produced gin at the islands' food festival in 2015 proved a hit. His first store opened in Lerwick's Commercial Street in July 2016 and employs four people.
The company has since won a contract to supply more than 3,000 pralines a month for cabins on ferries between Shetland, Orkney and the mainland. It supplies nine retailers directly, including Hardy's Chocolates in Aberdeen, and, through online sales, ships to customers across the UK and as far afield as the US and South Africa.
Mr Williams decided to expand into Orkney after spotting an available shop in Kirkwall's Albert Street during a fact-finding trip.
The new store will initially employ one full-time and up to four part-time workers and see Mirrie Dancers up its production to 2,000 hand-made chocolates every month. Mr Williams said: "I visited Orkney because I wanted to see how retailers marketed themselves to tourists as the islands are a huge draw particularly for cruise ships.
"By chance, I spotted a store that was for let in the perfect location and decided to lease it there and then.
"I've already identified someone in Orkney and will train her to decorate the chocolates to my high standards, although for the foreseeable future the highly decorated chocolates will still be made in Shetland.
"My ultimate aim, however, is to have all the chocolates sold in Orkney made in Orkney but that will entail taking on further space, potentially later next year."
Further expansion plans for the business include adding to its list of stockists and developing new flavours.
Mr Williams added: "The business has grown a lot quicker than I first imagined which has been fantastic.
"Moving into Orkney and securing a stockist in Aberdeen is just the beginning of my expansion plans. My next target is to secure stockists in Scotland's other major cities and create more flavours using local ingredients, such as beer chocolate using local hops.
"It goes without saying that none of this would have been possible without the support of my staff and local businesses."
The Shetland branch of enterprise support organisation Business Gateway is working with Mr Williams on the company's expansion plans.
Mr Williams said: "The success of Mirrie Dancers since opening in Lerwick last July has been phenomenal.
"I've been so busy that finding time to step away from the coal face has been hard, but Business Gateway has made me take my head out of the sand and plan where I want the business to be in three years' time.
"That has helped me think about how best to manage my growth and given me a document that will be essential when seeking potential funding or investment in the future."
Jeff Gaskell, an adviser with Business Gateway Shetland, said taking time to formulate growth plans was vital for small business owners.
Mr Gaskell added: "Mirrie Dancers' continued success has allowed Dave to expand quickly. Often it's hard for business owners to take a step back when orders need to be fulfilled, however, it is essential to plan for growth.
"Dave has taken the time needed to put in place a business plan that will guide him over the coming years and help him manage … future success."