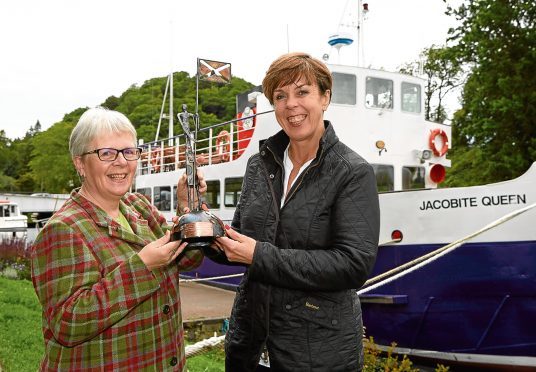 The success of an Inverness cruise company that carries hundreds of thousands of visitors on one of the world's most famous lochs was recognised at an awards ceremony in the Highland capital last night.
Loch Ness by Jacobite won the Chair's Award for Outstanding Business Achievement at the event held by the Scottish Council for Development and Industry (SCDI).
Judges said the 42-year-old firm, which was bought by managing director Freda Newton in 2002 and last year carried a record 224,000 passengers on its four vessels, has become "one of Scotland's finest tourist attractions".
Ms Newton said: "I am absolutely thrilled to receive this accolade in recognition of the success of Loch Ness by Jacobite. We have invested considerably in the business, our people and our fleet in order to deliver the best visitor experience possible. As a result we have seen incredible growth. The magic of Loch Ness is well known around the globe and we want to enable as many people as possible to live the legend."
Deputy First Minister John Swinney was keynote speaker at the Highlands and Islands Business Excellence Awards, hosted at the Drumossie Hotel by comedian Marcus Brigstocke Medical technology firm MIME Technologies, launched in 2015 and based at the Centre for Health Science in Inverness, won the Highlands and Islands Enterprise Award for Excellence in Research and Innovation.
The Benromach Award for Excellence in International Business was presented to salmon farming company Marine Harvest (Scotland).
Other winners were: Calmac Ferries – Crown Estate Award for Excellence in a Marine Business; Aquatera Ltd – Liberty British Aluminium Award for Outstanding Business Ambassador; Carbon Clever – Scottish Environment Protection Agency Award for Excellence in Environmental Sustainability and; Aquascot Ltd – SCDI Award for Excellence in People Development.
SCDI Highlands and Islands chair Jane Cumming said: "The Highlands and Islands is home to a diverse, strong and vibrant economy which has grown into a regional powerhouse – breaking boundaries, setting standards and demonstrating true leadership in many sectors.
"The SCDI awards recognise businesses for their significant strengths and successes. We commend all of the award winners on their continued investment and growth in the region and the vital contributions that their companies make towards our country's sustainable economic growth."