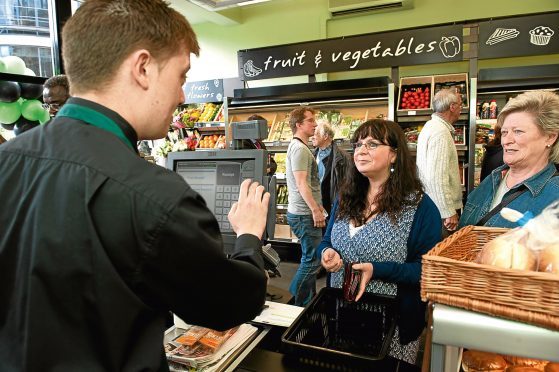 The boss of Scotland's largest independent co-operative said yesterday the business delivered a "solid" first half performance despite a sluggish retail market, cost increases and Brexit uncertainty.
John Brodie, chief executive of Scottish Midland Co-operative Society (Scotmid), reported trading profits of £2million for the business during the 26 weeks to July 29 – in line with the figure a year earlier.
But turnover fell slightly, to £184.7million as the co-operative battled for customers in a difficult market.
Mr Brodie said the National Living Wage, Scottish rating revaluation and apprenticeship levy all took their toll on costs during the period.
He added: "The Society's food convenience business performed well, with like-for-like turnover growth driven by the continued roll-out of food to go and efficiency enhancements. Our Semichem stores delivered a sales performance ahead of the non-food market in Scotland but was impacted by supplier price increases.
"Scotmid Property had a very successful six months and made significant progress with the diversification of our investment portfolio."
He added: "I expect the second half of 2017 to be equally or even more challenging, with increased cost growth from external factors and the continued market uncertainty over the Brexit outcome."
Pre-tax profits of nearly £1.4million, up by about £1million on a year ago, were boosted by the sale of an investment property in Edinburgh.
Mr Brodie hailed the pilot of a new new initiative, Community Connect, in its north region as a big success and the scheme is now being rolled out elsewhere in Scotland.
Customers using their Scotmid Community Connect cards collect a vote each time they shop and vote for their favoured good causes to benefit from Scotmid charitable awards worth up to £15,000.
Scotmid has nearly 200 convenience stores across Scotland. Its other operations include the Semichem toiletry chain, with more than 100 stores throughout Scotland, the north of England and Northern Ireland, as well as post offices, funeral parlours and a property division.
Following a merger with Penrith Co-operative, the group has eight Lakes & Dales stores in Cumbria and County Durham.
Scotmid has a history spanning more than 150 years. It began in July 1859, when 12 men gathered to form their co-operative at a house in Grove Street, Edinburgh, in a trend that was becoming fashionable as an alternative way of doing business. The first shop opened in November 1859 in Edinburgh.