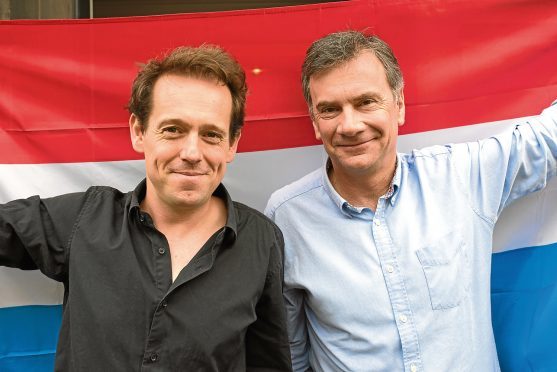 An international translation service launched in Aberdeen 16 years ago has opened its sixth office, in Amsterdam.
Lingo24, which counts BrewDog, Hunter Boots and Lush among its customers, said yesterday its expansion into the Netherlands was driven by growth in the number of its clients spending more than £100,000.
Founder and chief executive Christian Arno insisted Brexit was not a factor in the firm setting up shop "in a country likely to be part of the EU for many years to come". He added: "This move is about being close to customers and being able to support them better.
"To my mind, Brexit offers more opportunity than threat as the shift in exchange rates makes companies with a significant cost base in the UK more cost-efficient than their rivals abroad.
"Our business enjoys a relatively natural hedge with customers, but more revenue in euros and dollars does help."
Lingo24 expects to break £10million in revenue for the first time this year and it says it is now the third largest privately-owned language services business in the UK.
Eight of its top 30 accounts have significant operations in the Netherlands.
Two senior employees have already re-located to the country to support existing and new clients, and while Mr Arno and other "Lingo-ists" will also be spending more time there.
Mr Arno said: "Amsterdam has the highest concentration of Lingo24 clients after London, so it's natural for us to want to build on that success.
"It is also becoming a real hub for ecommerce, which is where our experience and technology have most positive impact. The pressure to deliver tailored content in multiple languages at the speed of now has never been greater, and our use of technology … is becoming mission critical to more and more companies.
"Our technology, combined with our strong consultative approach to addressing issues adjacent to translation are what is helping us to win and retain large global accounts."
Mr Arno – a former Shell LiveWIRE North-east Entrepreneur of the Year – is forecasting a return to profitability after two years of heavy investment in the firm's technology, senior management and sales teams.
The former Cults Primary School and Robert Gordon's College pupil founded Lingo24 in 2001, and has since grown the professional translation services provider into a global business employing more than 170 people.
In 2014, the company attracted investment from Paul Gregory, former chief executive and chairman of Edinburgh-based oil and gas research consultancy, Wood Mackenzie and other leading Scottish business figures.
Lingo24 is now based in Edinburgh, with other offices in London, Romania, Panama and the Philippines.
The company has won numerous accolades over the years, including Scottish Exporter of the Year and HSBC's Business Thinking Award, while Mr Arno is on the Opportunity North East digital board.