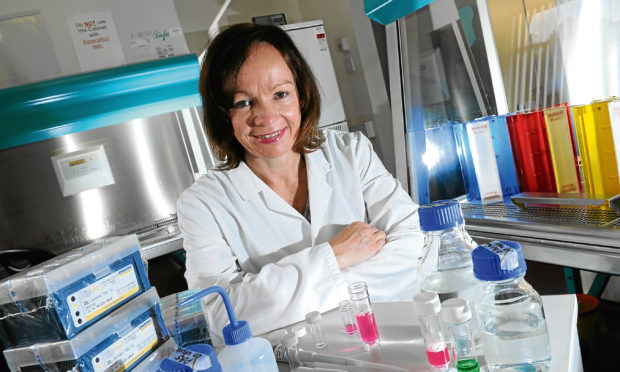 An Aberdeen company has been shortlisted for a leading European award.
NovaBiotics, run by immunologist Dr Deborah O'Neil, has developed new treatments to tackle infections, including MRSA, which are proving increasingly resistant to existing antibiotics.
And now the north-east firm, which was set up in 2004, will go up against businesses from Finland, France, Germany and Spain for the Most Innovative European Biotech SME award next month.
EuropaBio chairman Peter Heinrich said yesterday: "The jury and I were very much impressed by the amazing research, products and business prowess shown by Europe's leading biotech SMEs.
"We hope that through these awards we will put the strongly-deserved spotlight on their work and potential."
Ms O'Neil said she was "delighted to have been shortlisted" for the awards ceremony at the European Parliament in Brussels on November 22.
She said: "Innovation is the core of NovaBiotics' approach to developing desperately needed treatments for medically unmet infections and combating antimicrobial resistance.
"This nomination is very welcome recognition of this culture within the business and to be recognised as standing out from such a strong crowd within a thriving, highly innovative European biotech sector means a great deal."
The north-east firm employs 15 people and has made significant advances recently.
Ms O'Neil added: "We have made fantastic progress and come a long way in 13 years: we have raised £20million to finance the business; completed two highly significant commercial deals; secured hundreds of patients; and we have a portfolio of ultra-high value antimicrobial candidates to take forward.
"That is one of the driving forces behind all the hard work which we have been doing at NovaBiotics. And although these are early days I really believe we have made a breakthrough and it could have dramatic results in the future.
"We have already produced a new treatment to help those with cystic fibrosis and it's exciting to be involved in these developments at the moment. Most people in Aberdeen probably have no idea about the research we are doing in their midst, but the threat posed by MRSA and other infections is real and we are hopefully advancing with frontline therapies, rather than simply trying to put a sticking plaster on the wound."
Ms O'Neil has an impressive pedigree in cutting-edge research.
In addition to her role as chief executive of NovaBiotics, she is a member of the Scottish Life Sciences Advisory Board and sits on the newly-formed life science board of Opportunity North East (ONE).