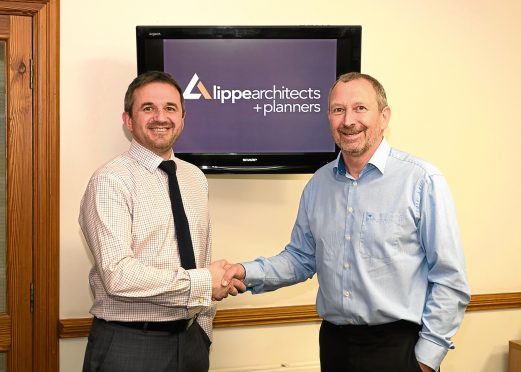 The founder of north-east architecture and space planning firm Lippe Architects + Planners is stepping aside from the business to explore new opportunities.
William Lippe, who launched the Inverurie-based business in 1985, has handed the managing director's role over to technical director Stuart Naysmith.
Mr Lippe will stay on for a spell on a part-time basis, the firm said yesterday.
The business employs 14 people, providing professional architectural, planning and associated services to clients throughout Scotland. It is involved in a wide range of sectors across industrial, commercial, agricultural, industrial, residential and historic projects.
Mr Naysmith joined the practice in 1993 and, alongside Mr Lippe, has played a key role in the firm's steady growth.
Mr Lippe said: "Stuart has many years of experience while working as our technical director, so it was not only a natural progression but the most streamlined decision for both our in-house team and our clients to ensure continuity of service. I am confident the business is in extremely capable hands".
Mr Naysmith said: "I am excited to step up to this opportunity and confident of continuing to grow the business in a climate that is not without its challenges."
Meanwhile, north-east builder Stewart Milne Homes (SMH) said yesterday it had appointed a new construction director for central Scotland as part of its drive to deliver more than 500 new homes in the region year-on-year.
Bryan Galloway will be responsible for ramping up the rate of new builds in the central belt, where Aberdeenshire-based SMH currently has more than a dozen active outlets and is investing in land for another site.
Central belt land with a sales value in excess of £100million has been acquired by the company during the past year.
Mr Galloway has previously worked for Wimpey Homes, Cala Homes, Miller Homes, Barratt Homes and Avant Homes.
SMH central Scotland managing director Gerry More said: "We are seeing a strong sales performance in our well-established homes business in this region and Bryan will play an integral role in delivering our strategy."