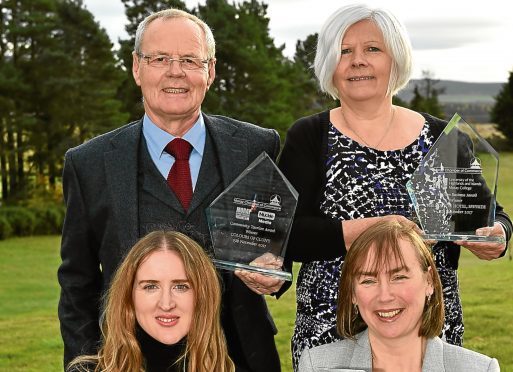 A project that has been lighting up the Forres skyline, bringing thousands of autumn visitors to the town, has been honoured at an event marking the culmination of this year's Moray Business Week.
Bill Budge, of Colours of Cluny, was presented with the trophy for best community tourism initiative at Moray Chamber of Commerce's awards lunch in Elgin yesterday.
Recently-launched full-service creative communications agency Spey, founded in Aberlour by Jennifer Robertson, was named the area's most promising enterprise.
The title of small or medium enterprise of the year was awarded to CAG Architects, of Keith, in recognition, the judges said, of "notable contracts" won by the firm over the past year.
The Station Hotel, in Rothes, which was restored and reopened in 2016 after being bought by local distillery equipment and energy industry fabrication company Forsyths, was named winner of the Moray Speyside Tourism business award.
Georgina Dunk, of Moray Chamber of Commerce, said the annual awards –now in their third year –attracted an "incredibly high standard" of entries.
She added: "The judging panel had to make some tough decisions in choosing this year's winners.
"This is largely down to the quality of businesses that exist within Moray Speyside and their fantastic appetite to seize opportunities that will help them progress."
Guest speaker at the awards ceremony was Sarah Holmes, of Elgin stationery, art and gift shop Pencil Me In.
The event, held at Elgin Golf Club, marked the end of 2017 Moray Business Week, which this year had a theme of "connect digitally – grow globally."
The week opened with the Moray Speyside Tourism Conference and offered a range of workshops and a presentations.
Ms Dunk said: "Moray Business Week has been a fantastic series of events that have focused on preparing our businesses for the future in a hugely progressive period in time.
"I hope that those who attended the events feel prepared going forward and comfortable connecting digitally, and growing globally."