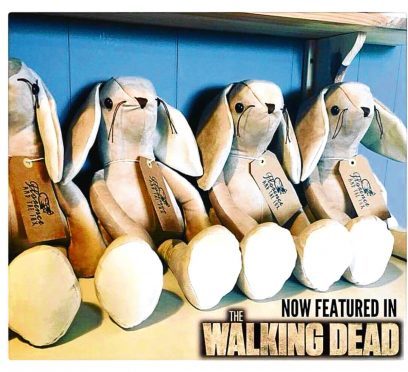 A north-east woman had seen her business take off after one of her hand crafted toy bunnies appeared on a top American TV show.
Amy Croft designs and makes her own soft toys and sells them online.
And when one of the prop masters working on The Walking Dead spotted them he knew they were going to be an important part of the new series. John Sanders said. "I went to Etsy and I looked and there were nine different velveteen rabbits but this velveteen rabbit reminded me of my childhood.
"Guess where it's made? Scotland. And we only had six days. So I called the woman and I said, 'I need ten of those rabbits!' She said, 'No.' I said, 'We're The Walking Dead!' She said, 'No.' Maybe she doesn't get that in Scotland. So, I explained it to her and how much I really wanted it and what I was gonna do with it and she got really excited. She made me two rabbits."
Ms Croft sells her toys through her business Florence and the Fox and since the rabbit's appearance on screen she has seen a flurry of orders come in for the product which she's selling for £55. She said: "I started this business a couple of years ago after been given my mums old sewing machine. I had never used one before and I have taught myself to sew. I have gone from sewing little hearts from old tea towels to being the maker of the velvet bunny in season 8 of The Walking Dead. I'm still pinching myself."
It is understood the soft toy is likely to play a pivotal part in the series, however it is not yet clear what it's significance is.