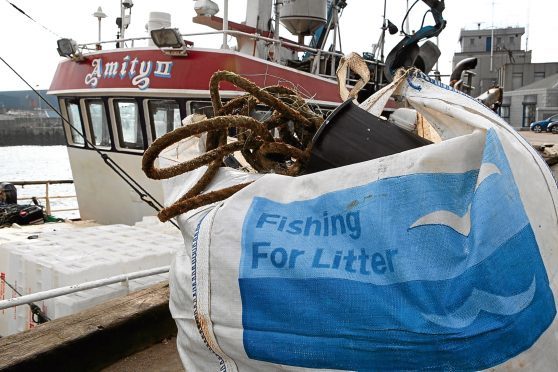 The Scottish Government has signed up to a global project aimed at reducing the amount of fishing gear lost at sea and harming the marine environment.
An estimated 640,000-plus tonnes of fishing gear is abandoned, lost or discarded in the world's oceans every year.
Animals such as fish, whales, turtles and seabirds can become entangled in the "ghost gear" and may either drown within minutes or suffer long, slow deaths lasting months or even years with debilitating wounds, infection and starvation.
This equipment is often made of long-lasting plastics so can continue to harm the marine environment for hundreds of years.
The Global Ghost Gear Initiative (GGGI) works with the fishing industry, academics, governments and non-governmental organisations to come up with solutions to the problem, which contributes about 10% of global marine litter. Environment Secretary Roseanna Cunningham said signing up to the initiative built on work that was already being done as part of Holyrood's marine litter strategy.
She added: "Over the past few years, we have been working with (environmental organisation) Kimo and the Scottish Fishermen's Federation to co-ordinate the strategy's work.
"We are proud of the efforts of our fishing fleet which – through Kimo's Fishing for Litter scheme – has retrieved 1,200 tonnes of litter from the seabed since 2005, including ghost gear.
"Signing up to this initiative demonstrates our support for global action to tackle the problem of ghost gear in order to prevent the needless entanglement of wildlife in the future."
Arabelle Bentley, part of Kimo's international secretariat, said Scottish fishers were already helping to clean up the sea, with 201 vessels and 18 harbours around the country taking part in Fishing for Litter.
Ms Bentley added: "The project has a real effect in reducing the amount of litter in our seas and in turn reduces the associated economic and environmental costs to us all."
The GGGI project was launched in September 2015 and is led by international not-for-profit organisation World Animal Protection, whose UK campaign manager, Chiara Vitali, said: "We are delighted Scotland has committed to joining the Global Ghost Gear Initiative.
"We hope this new announcement will encourage other industry and government representatives to join our effort to rid the sea of ghost gear and create safer, cleaner environments for our marine wildlife."