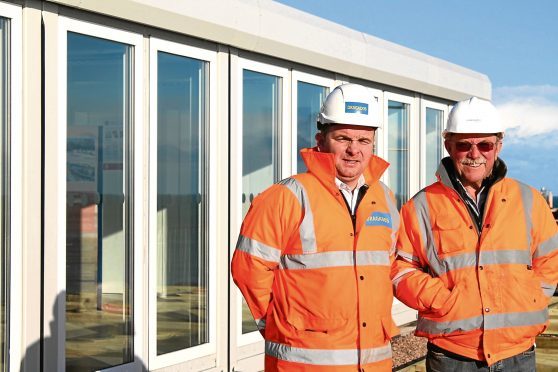 A north-east family firm is ending the year on a high after completing several contracts on some of the largest infrastructure programmes Scotland has ever seen.
Greenwell Equipment has recently finished working on a project worth more than a million pounds supporting the Aberdeen harbour expansion.
The firm, which is based in East Tullos, Aberdeen, has supplied modular buildings to support the development at Nigg Bay.
The harbour is one of three civil engineering contracts undertaken by Greenwell, which have been worth in excess of £2million.
The family firm, which was established in 1996, also supplied more than 500 modular office and welfare buildings to the Queensferry Crossing joint venture and the AWPR consortium.
At the harbour Greenwell installed a two-storey construction head office building, and another two-storey building which will act as energy-efficient offices and welfare blocks for the workforce on the new harbour site.
Greenwell has further delivered another building, which will be used as a visitor centre to enable school groups and local people to watch the progress of the expansion of the £350million development.
Following a detailed six-year engagement process, the development of the facilities at Aberdeen harbour over the next three years will transform the port's ability to accommodate the trend for larger vessels seen across a range of industries.
The development is a Scottish Government National Planning Framework project, and is scheduled to be completed by 2020.
Richy Turnbull, of Greenwell, said: "This is the third major Scottish infrastructure project that Greenwell has been involved with over the last two years, and we are delighted to be working with Dragados UK to bring valuable infrastructure development to the area.
"Our work on the Queensferry Crossing and the Aberdeen bypass has seen us work closely with major contractors and government agencies, to provide high-quality products with fast delivery times and highly competitive prices.
"The welfare and office buildings will support the exciting work in the bay over the next three years, and the visitor centre will allow local people and visitors to witness the progress of yet another important investment in the region." The firm will also be providing large buildings at the A14 upgrade site in England – one of the UK's largest infrastructure programmes.