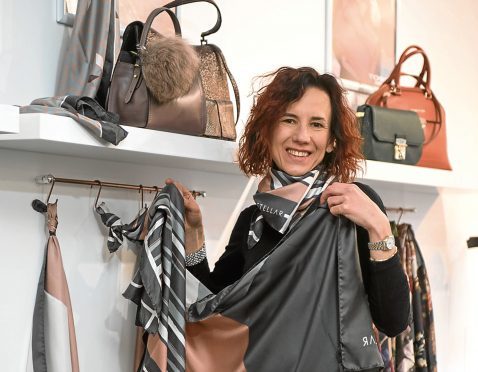 A former IT manager who took a career break to raise her children has returned to her Italian roots by opening a boutique in Aberdeen city centre.
Having spent her childhood helping out in her father's chain of handbag shops in Milan, Serena Venegoni decided to invest £150,000 to launch her own outlet, Stellar, with help from Business Gateway Aberdeen City and Shire.
Carrying a range of leather handbags, sourced with the help of her aunt and cousin who run their own accessories shop in the Italian fashion capital, the 46-year-old has just unveiled a new line of scarves made from Lake Como silk.
Using her eye for detail, Ms Venegoni designed each of the three scarves herself to reflect the character of Milan, Rome and Verona.
She said: "It seems retail is in my DNA. Every Saturday during my teenage years I would work in one of my father's shops. It didn't matter what else was happening, or if it was your birthday, working in the shop came first and I learned so much from that experience. Sadly, my dad died before my sister or I were old enough to take over the reins but I am happy to have inherited his eye for detail and quality.
"I decided last year it was now or never to open the shop, and thanks to my family connections with key suppliers in Italy I have been able to stock many brands you cannot get anywhere else in the UK.
"Knowing I had that connection gave me the confidence to go to Business Gateway with my idea.
"My adviser has been a great support. She provided me with market research reports and a property search. She then helped me write my business plan and highlighted workshops I should attend. Having never worked in or run a shop in the UK before, having access to her local knowledge and guidance has been invaluable."
Carron Taylor, Business Gateway, said: "Taking time out to raise her family gave Serena an opportunity to re-evaluate her career goals, and once she realised that opening a shop was top of her to do list she turned to us for advice on how to make it a reality.
"Using our information service she gained valuable market insight, while one to one support and our workshop programme helped guide her through the set up process. Now that the business is open, being part of our Business Boost programme, which is funded by the European Regional Development Fund, is providing Serena with expert support to help with her growth strategy, marketing and HR as well digital support to help her grow and expand her business online."