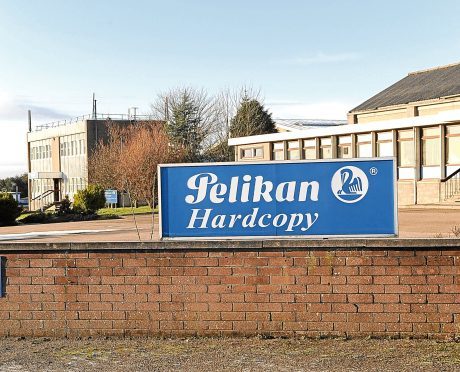 Fifty-two north-east jobs have been saved after a Chinese takeover of north-east firm Pelikan Hardcopy Scotland (PHS) out of administration.
But the new owner – Zhuoli Imaging Technology Company (ZITC), of Henan, China – has not taken on a £45million-plus pension scheme deficit.
Joint administrators Michael Magnay and Rob Harding, of professional services firm Deloitte, said the sale of Turriff-based PHS for an undisclosed sum was a "fantastic" result after a challenging time for the business.
PHS, which manufactures and distributes film products and office consumables, suffered hefty losses before its collapse on January 12.
It was previously owned by Malaysia's Pelikan International Corporation and had become increasingly dependent on financial support from its parent.
The last set of accounts lodged at Companies House for PHS show pre-tax losses widened to nearly £3.4million in 2016, from £949,205 the year before, while its pension scheme deficit mushroomed by nearly £10million to £45.92million.
PHS closed its defined benefit pension scheme in February 2012, replacing it with money purchase arrangements requiring contributions of £207,500 to be paid every quarter.
Although the parent gave a written guarantee to support this for 10 years, commencing in early 2008, it started defaulting on payments in 2015.
The pension scheme deficit at the end of 2016 included unpaid administrative fees totalling nearly £2million.
A spokesman for Deloitte last night said: "The company's legacy defined benefit occupational pension scheme, which was closed to new entrants in 2010 and to further accrual in 2012, has not transferred to the purchaser.
"The administration of the company, as sponsoring employee, will trigger formal notice to the Pension Protection Fund, who will then undertake an assessment of the pension scheme."
Announcing the sale to Lothian Shelf (731), a newly formed subsidiary of ZITC, Mr Magnay said: "It's fantastic to secure the existing 52 manufacturing jobs in Scotland, and we're thankful to the staff for their ongoing support during what has been a challenging time for the company.
"It's also encouraging to see Chinese investment in Scottish manufacturing, which is an endorsement of the innovative products produced and the quality and dedication of the workforce."
PHS was at one time the biggest employer in Turriff, with 350 full-time and 50 part-time workers. The firm has been in the town since the 1970s but struggled for survival under different owners.
Hundreds of jobs were saved after a management buy-out in 1999. However, workforce numbers then plunged due to falling sales of the company's typewriter and printer ribbons.