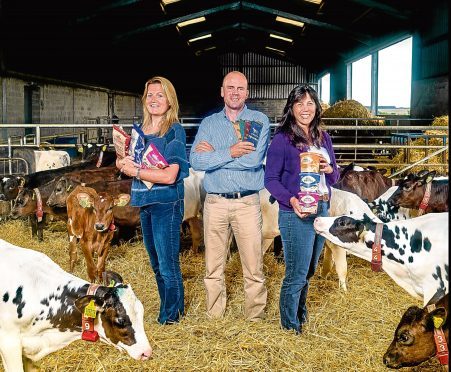 North-east ice-cream firm Mackie's of Scotland is targeting sales growth in Taiwan and South Korea in a fresh assault on Asian export markets.
The family-owned dairy, based at Westertown Farm, near Rothienorman, said yesterday sales to Asia had jumped 35% by volume during the past year.
Mackie's – one of Aberdeenshire's best-known food brands, thanks to its luxury ice-cream range, potato crisps, chocolate and, more recently, flavoured popcorn – expects sales in the region to top £1million during 2018.
Taiwan has already upped its annual order from three to 14 shipping containers, while SouthKorea has placed an order for eight.
Exporting ice-cream can be challenging and most of the Asian orders are shipped via specialised 40-foot refrigerated containers which spend around six weeks on the open-seas. The huge containers, packed with more than 4,400 gallons of ice-cream, leaves Westertown for Asia most weeks.
Mackie's export director Ivan Jefford said: "Mackie's has been exporting ice cream to the Asian market for a number of years now, and it is also popular in UAE (the United Arab Emirates) and Abu Dhabi.
"Korea has been our main success until recently but we've now seen a spike in demand from Taiwan, which is very positive.
"I think that what's attracted Asian buyers to Mackie's is the journey from the Scottish farm, with its own dairy herd producing the fresh cream and milk, mixed with renewable-energy and tailored packaging – Mackie's manages the whole production process.
"Throw in the fact that the market looks for quality products – something Mackie's is known for – and that we are a Scottish brand; it's is a unique selling point.
"Scottish produce really is prized in Asia, thanks to a lot of amazing work by the wider national food and drink industry."
New nutrition labels have been made for the export tubs bound for Taiwan and South Korea, where Mackie's has sold ice-cream for many years.
The firm's initial foray into Asia was through its appointment as an official supplier at venues in South Korea during the 2002 Fifa World Cup.
It was also part of a joint-venture which set up a chain of Mackie's-branded ice-cream parlours, though that business was short-lived.
"Our growth in the Asian market has been such a positive sign," managing director Mac Mackie – one of three sibling owners at Mackie's – said yesterday.
He added: "We are always looking at new ways to bring our ice-cream to new markets and have spent time establishing the right relationships.
"We are always working six to 12 months ahead of where we are just now. Japan is looking positive for 2019, as do further listings in Hong Kong and Taiwan."
Mackie's produces more than 2.2million gallons of luxury ice-cream every year.