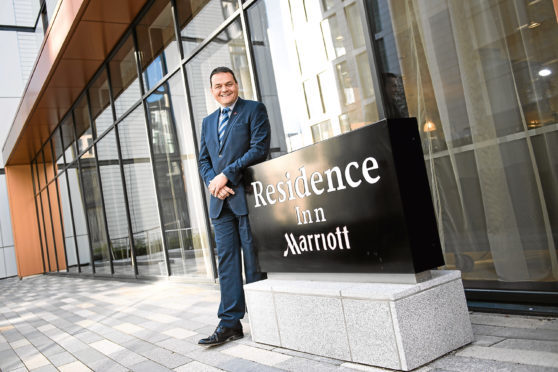 One of the world's largest hotel operators is confident its new operation in the heart of Aberdeen will thrive as the local economy emerges from its recent downturn.
That was the message from Chris Wayne-Wills, north cluster general manager at Marriott International, which recently opened a hotel in the Granite City – only the third of its kind in the UK to date – under its Residence Inn brand.
The new property, which is a key part of the new Marischal Square development, welcomed more than 1,500 guests in its first month of business. It is the Marriott group's fourth hotel in the Granite City, adding to its main brand operation at Dyce, as well as a Courtyard and a MOXY next to Aberdeen International Airport.
And in a further sign of confidence in the local market, one of the company's Aloft hotels is due to open next to the new exhibition and conference centre being built at Bucksburn.
Mr Wayne-Wills said the range of hotel types was key as the local economy recovers from its recent downturn, adding: "I don't think the market is over-supplied – just more competitive. It is also a few years since we had a major new hotel opening in the city centre."
The new bypass road, work on a bigger exhibition and conference centre, major revamps for both Aberdeen Art Gallery and Aberdeen Music Hall, Aberdeen Harbour expansion, a planned new football stadium and an economic recovery in the north-east are all good for the area's hotels, he said.
He added: "There is an opportunity here and having different choices in the market is going to be even more important than ever."
The 126-suite Residence Inn by Marriott is targeting people on the move and looking for a home from home, with its mix of apartment-style accommodation and traditional hotel services.
Mr Wayne-Wills said there was still plenty of oil and gas business to tap into, including project workers needing to spend a few weeks or months in Aberdeen and new recruits looking for somewhere to stay until they find somewhere to live.
But there is huge potential in the leisure market too as Aberdeen tries to diversify its economy and build a new future for itself in areas such as tourism, he added.
A raft of hotels currently in the pipeline for Aberdeen include the 218-bedroom Sandman Signature taking shape in the old Robert Gordon University school of computing in St Andrew Street and a 52-bedroom venue at the former Woolmanhill Hospital.