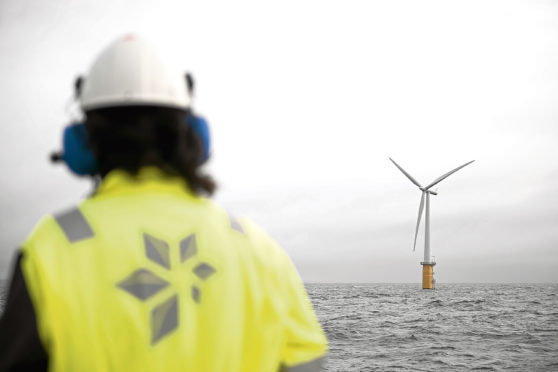 Norwegian energy giant Statoil said yesterday its Hywind project off Peterhead had outstripped expectations in its first three months of production.
Statoil said the £200million floating windfarm worked at 65% of its maximum capacity between November and January.
The average capacity factor for a bottom-fixed array is 45-60% during those months, according to the company.
Statoil and project partner Masdar achieved the feat despite having to temporarily switch off the turbines during the period due to harsh weather conditions.
The north-east coast was buffeted by Storm Caroline in early December, when gusts in excess of 100 miles per hour and waves heights of 27ft were recorded.
Statoil announced in October that Hywind, the world's first floating windfarm, had started to deliver electricity to the Scottish grid.
The 30megawatt windfarm is located 15miles off the Aberdeenshire coast and capable of powering about 20,000 homes.
Beate Myking, senior vice-president of offshore wind operations, Statoil, said: "We have tested the Hywind technology in harsh weather conditions for many years and we know it works.
"Putting the world's first floating windfarm into production comes with some excitement. Therefore, it is very encouraging to see how well the turbines have performed so far.
"Hywind Scotland's high availability has ensured that the volume of electricity generated is substantially higher than expected. In addition, it has delivered without any HSE (Health and Safety Executive) incidents."
Irene Rummelhoff, executive vice president for new energy solutions, Statoil, said the company was "actively looking for new opportunities" for the technology used for Hywind.
Eighty per cent of the world's offshore wind resources were in deep waters where traditional bottom-fixed cannot be installed, she said, adding: "We see great potential for floating offshore wind, in Asia, on the west coast of North America and in Europe."
Statoil aims to cut the cost of energy from Hywind over the next 10 to 12 years.